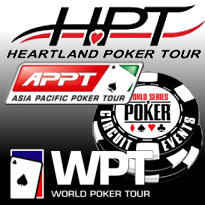 Over the weekend, San Jose amateur Moon Kim captured the World Poker Tour Bay 101 Shooting Stars event title, outlasting 363 opponents to earn a handsome $960k for his first major tournament championship. The event features a 'Star' player at each table with a bounty on their heads, but in what was a first for this event, none of these star players made it to the final table (2010 WSOP champ Jonathan Duhamel made it the farthest, busting out in 13th place). Ubaid Habib, another local amateur, was runner-up, earning $570k. The rest of the final table placed as follows: Joe Serock ($320k), Erik Cajelais ($256k), Andrew Badecker ($192k) and Joe Elpayaa ($128k). The WPT next touches down in Vienna on April 10.
The Asian Pacific Poker Tour stop in Seoul was won by another American Kim — Andrew Kim, to be specific — who outlasted 267 other players to earn KRW145m ($129k). When the final table reached four players, a deal was struck to divvy up the remaining prize money, a calculation that resulted in runner-up Vincent Rubianes earning less ($80k) than third place finisher Rafael Rodrigo ($84k), who in turn earned less than fourth place man Moritz Ortmann ($94k).
The Heartland Poker Tour's parent company may be broke, but that hasn't stopped the HPT from handing out the poker bucks. Will 'the thrill' Failla has continued his winning ways, taking the Heartland Poker Tour's milestone 100th event in St. Louis, Missouri. Failla, who won a WPT Legends crown last fall, overcame a 328-strong field to take top honors and $119k. Brian Nguyen was the last to fall at Failla's hand, earning $67k for second place, while William Matula took third and $42k. Next up for the HPT is a stop at the Palms in Las Vegas beginning April 6.
On Monday, Ryan Eriquezzo earned a shiny World Series of Poker Circuit ring (his second) at Caesars in Atlantic City. The 641 players who bought in represented a 45% bump over 2011 (thanks in part to new re-entry rules), making it the largest WSOPC field AC has ever witnessed. Eriquezzo's buddy David Zeitlin was runner-up, earning $118k, while Troy Erickson earned $86k for third. The WSOPC next touches down at Harrah's Rincon in San Diego on March 15.
The WSOPC also announced the dates for its second annual National Championship at the Rio in Las Vegas. The top 100 WSOPC performers from the current season will convene at the Rio on July 6 in the quest for the shiny gold WSOP bracelet and a piece of the $1m guaranteed prize pool.
Finally, to all those fortunate and/or skilled enough to cash large at a tourney, please, put your winnings in a bank. Pro player Paul Carr learned that hard lesson when police in Limerick, Ireland raided the house of the girlfriend of a friend of Carr's looking for illegal drugs. The cops found no dope, but they did find €36k in cash, which they confiscated as suspected proceedings of dirty druggie dealings. Problem is, it was actually part of Carr's €312k score for placing second at the Paddy Power Irish Open event in April 2010. The Limerick Post claims Carr told authorities that he gave the €36k to his friend, who in turn, gave it to his girlfriend (because, really, what better way to say 'I love you' than making your significant other responsible for someone else's bankroll). Look, poker pros: first, Duhamel took a beating because his ex knew he kept mad cheddar around the house. Now, Carr's trying to convince the authorities that he trusts the g/f of a friend more than Irish bankers. Actually, given the latter's recent behavior, Carr may be on to something, but seriously… It's the 21st century. No more piggy banks.