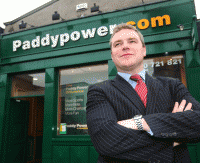 CalvinAyre.com has learnt the Advertising Standards Authority (ASA) will be conducting a formal investigation into a Paddy Power advertising campaign. We contacted the ASA earlier today after hearing rumors they'd be studying the campaign and Matt Wilson, press officer at the ASA, confirmed they'd "received 360 complaints about a TV ad for Paddy Power plc."
"Members of the public have objected that the ad is irresponsible and offensive, because they consider that it is transphobic and derogatory towards transgendered people and women," he told CalvinAyre.com.
Wilson also confirmed: "We have launched a formal investigation and will publish our findings in due course."
The furor began after the Irish firm's new ad for Ladies Day aired on Saturday and promised to make the meeting "even more exciting by adding some beautiful transgendered ladies: Spot the stallions from the mares." It's not the first time Paddy has been criticized by consumers after there had been uproar over an advert where a blind man appeared to kick a cat.
Some people may find these adverts offensive but they're missing the point that all they are is a bit of fun. Tongue in cheek is very much the theme here and it's hardly the biggest surprise in the world that as many as 360 people have complained. The main part for Paddy is that a large part of the demographic they're aiming to hit will have seen the humor in the ad and will have opened up an account as a result.
We contacted Paddy Power for comment but they were unable to get back to us before the article went online.