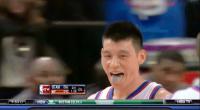 New York Knicks point guard sensation Jeremy Lin will have to hire out a new PO box for late Valentine's cards should his and the team's winning streak continue in tonight's matchup with the Raptors at the Garden. It's not just fans of the post-lockout Knicks and NBA as a whole that are toasting the Chinese/Taiwanese player's ascent to the top of The Empire State. The financial markets are just as excited and one stock in particular has seen a spike.
Madison Square Garden Entertainment has traded on the Nasdaq under the symbol $MSG since it went solo from Cablevision back in 2009. It usually trades at somewhere above the $20 mark and hit a high of $28.68 in April 2011. It spiked again last December to reach $30.20. That was before Linsanity began and American started getting their Knick-ers in a twist at the Harvard grad.
Since Lin's debut for the Knicks on February 4, there has been a 13% jump in MSG stock with Bloomberg Businessweek noting the stocks "unusual moves" and that it had "gained 3.6 percent to $32.28, rallying for the ninth straight day."
This was added to by CNBC Sports Business reporter Darren Rovell, who tweeted: "Since Jeremy Lin's 1st start on 2/4, MSG's market cap has grown $228 million. Over that time, they paid Lin about $48,100."
The stock market movement goes to show gambling is very much a part of everyday life – the markets included. Four games into a career and two huge games is all that it's taken for the stock exchange to go monster raving looney over the stocks of MSG. God forbid Lin gets injured.
Like everyone else we'll be watching on to see how this great story's latest chapter plays out tonight. If you want a different take on checking the results just wait until the markets open in New York on Wednesday.
Comments