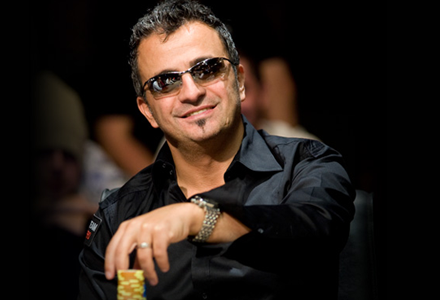 AsianLogic Limited, the parent company of the Asian Poker Tour, announced this past weekend its new partnership with 2005 WSOP Main Event winner Joe Hachem. "I will be working with the Group in several areas, initially as a new ambassador for the Asian Poker Tour to further the growth of poker and to assist them with several strategic opportunities in Australia and the Asia Pacific Region," the former world champion said in a press release.
Though his full role with the company won't be revealed for a few months, the champ's first assignments is to be the newest APT Ambassador. On that count, score a win for the APT. Hachem is one of the most recognizable non-American poker players in the world. His WSOP Main Event win in 2005 came at the height of the poker boom, the televised images of him wrapping himself in the Australian flag, cheered on by crowds of his countrymen chanting "Aussie Aussie Aussie, Oi Oi Oi!!!" were a big catalyst for the growth of the poker industry in Australia.
Even though that victory has receded into the history books to some degree, Hachem has proven his ability to compete in major tournaments in the intervening years, unlike some other modern WSOP Main Event winners. With that big win and more than $4 million in tournament winnings since the summer of '05, including a WPT title at Bellagio in '06 and numerous WSOP, WPT and EPT cashes, the Lebanese-born Hachem ranks 9th on the all-time money list.
His worldwide appeal is probably only topped by the national and regional appeal he has within Australia and throughout the rest of the Pacific Rim. In his adopted home country, Hachem is something of a national hero. He is far and away the winningest tournament poker player Australia has ever produced, at more than two and a half times the earnings of Tony G and three and a half times those of Mel Judah. He has a tournament series at the Crown Casino in Melbourne named for him. He partners with Australian cricket legend Shane Warne for charity poker tournaments at the Aussie Millions. In Australia, Joe Hachem is poker.
There are lots of past poker champions out there, but not many of them handle the position with quite the same ease as Hachem. A lot of that comes from his background – before he was a world champion poker player he was a working man poker player. A chiropractor by trade, he ended up having to leave his job because of a medical condition. That goes a long way toward explaining the casual and easy attitude he has with the fans who turn up anywhere he's playing poker.
Just from the standpoint of trying to find someone popular to help promote a growing brand in a developing market, the APT scores a win with Joe Hachem. But there's an extra level of synergy that makes that win get even bigger since the former world champion is a great fit with the APT's mission of growing the game. The Joe Hachem Deep Stack Series, which has now run eight times in Australia, features low-cost tournaments with a cap of $550 and is comparable to what the APT started in 2011 with its APT Asian Series festivals and affiliated events like the Manny Pacquiao tournament held in the Philippines this past December.
As many things as he brings to the table in helping to grow the game, it's the second part of Hachem's initial announcement – "to assist them with several strategic opportunities in Australia and the Asia Pacific Region" – that will probably end up being the most lucrative in the long run, both for Hachem and for AsianLogic. In the same press release Hachem hints at the possibility of regulatory changes coming in Australia, changes which will require "a different focus from that adopted for the general international poker market." That's exactly the kind of opportunity for the champ to make himself useful to an up-and-coming entity in a market whose full potential has yet to be realized, meaning a series of well-timed moves could keep both Hachem and AsianLogic firmly planted there for years to come.

There have been quite a few departures from PokerStars lately, so it will be interesting to see how many more announcements like this one there are in the near future – and which companies are making them. Picking up on anyone who has experience working with a market leader is a good way to position yourself to emulate that success in the future. They won't all have as much credibility at the tables as Hachem, but they're definitely used to playing for a winner – and that's an asset in any kind of market.