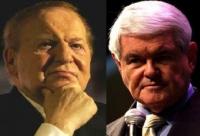 Casino business magnate Sheldon Adelson has handed over $5million to a group supporting longtime friend Newt Gingrich's campaign to end up in the White House. The Washington Post reported the campaign contribution was made to the Super PAC (Political Action Committee) "Winning Our Future" run by former associates of Gingrich. The $5m payment was paid by Adelson to keep Gingrich with a chance in the January 21 primary in South Carolina. Whispers have revealed that Adelson plans to spend another $5m during the election campaign to either Gingrich or the successful Republican candidate. Adelson is a long-time supporter of the Republican party and it was only last month that he came out in opposition to the online poker industry.
Genting's Resorts World New York is continuing to smash estimates after revealing revenues over the weekend. According to a column published by Las Vegas Review-Journal writer Howard Stutz, the casino business took gaming industry revenues of $89.9million up until December 31 despite being open for less than three months. In a research note, Union Gaming Group principle Bill Lerner said: "The early success of Resorts World New York is not surprising as the property draws significant convenience customers from the New York tri-state area," before adding that it's trumping all other racinos in the state.
The same could not be said for the Horseshoe Southern Indiana casino that suffered its worst year in six. Revenues at the casino were down almost 9% for the year and much of it is being blamed on the shutdown of the Sherman Minton Bridge. This, in addition to the economic strife and floods helping to make admissions decline by more than 300,000 compared with the year before.