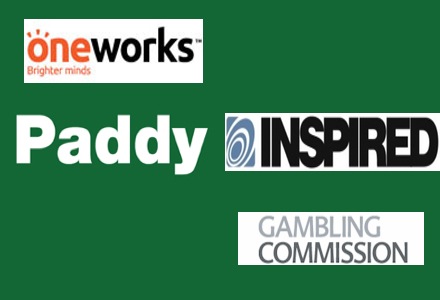 Leading Asian sportsbook provider ONEworks is the first company to receive a new Network Services licence from the Isle of Man Gambling Supervision Commission. It allows the firm to operate under the jurisdiction's new network licensing system that was launched in July. Upon the news, Tom Hall, Business Development Director at ONEworks, said: "Having worked with the Isle of Man Government to develop this licence, we feel it is an important milestone in the development of our business internationally.  It's significant that we are the first to be granted this licence and for our long-term strategy."
Formerly known as Sunplus, ONEworks is one of the most reputable providers of sports betting solutions for firms looking to expand into the globe's largest gaming industry market, Asia.
Paddy Power has become the first to take advantage of Inspired Gaming Group's mobile virtual sports offering. The Irish bookmaker is also the only firm to benefit from Inspired's virtual product across retail, online and mobile. Andy McCue, Head of UK Retail at Paddy Power, added: "Paddy Power is synonymous with fun and entertainment. We have always been focused on giving our customers the most exciting gaming and betting content, and Virtual Sports will now be an important part of this mix."
The company has completed the roll out of Inspired's Platinum Virtual Sports platform that allows greater customization of the virtual sports products. This means they can decide which sports to offer, schedule the timetable of races, matches and number draws and set the margin on each race. The full roll out will be complete at some point during Q1 2012.
The Gambling Commission has appointed four new commissioners ahead of the New Year. Robin Dahlberg, Walter Merricks CBE, Graham Sharp, and Anthony Lilley OBE will take up their positions from January 1. Merricks and Dahlberg will both serve for five years apiece whereas Sharp and Lilley will serve for a year less.