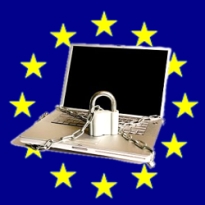 Online gambling companies have experienced a few data breaches over the years, the most recent examples including Betfair and Bet24. In both of those cases, the companies did not immediately disclose the security breaches to their clients. If proposed regulations currently being considered by the European Commission go through, such failures to notify could result in serious fines. And we do mean serious.
According to documents seen by the Financial Times, the EC is considering updating its data protection regulations (which haven't been significantly altered since 1995) to require European companies to notify data protection authorities and affected clients within 24 hours of a breach being discovered. Failure to do so could result in fines of up to 5% of global turnover. The rules would also apply to foreign companies' European subsidiaries. Before any of you gambling execs swallow poison, the rules will require the approval of EU member states, which is far from assured, and aren't expected to be enacted for another four years.
After declining to re-up with former client William Hill, media planning and buying agency the7stars has inked a media buying deal with the Gala Coral Group. Gala previously utilized the services of Mindshare to handle its £3.3m media budget. Edwards Groom Saunders will continue to handle Gala's media planning.
It's been a while since the two halves of bwin.party were joined at the hip, but Bwin and PartyGaming are merging their respective affiliate programs, Bewinners and PartyPartners, into an 'integrated affiliate platform' by the end of the year. Emails were sent to affiliates earlier this week notifying them that the change would start with the Spanish market, and to "stay tuned" for more info in coming weeks.
The government of Ireland says its proposed online betting tax will kick an extra €20m per year into state coffers. However, rather than fritter away the extra dosh on 'kiss me, I'm Irish' t-shirts for the entire cabinet, Cork South West TD Noel Harrington says the funds "could, and should, be ring-fenced" to ensure the proper support is provided to problem gambling services. Finance Minister Michael Noonan says despite the imposition of a new tax, the rate was low enough to "send a signal" to international betting firms that Ireland was an "attractive possibility" for investment and employment opportunities.
Finally, it's no secret that Calvin Ayre is a big fan of the Ayrshire region of Scotland. The local racetrack, which Calvin visited this July, was recently celebrated in the UK parliament by the MP for Ayr, Carrick and Cumnock, Sandra Osborne, for "the significant role that Ayr Racecourse has in the Ayrshire economy and to highlight how the racecourse has diversified as a business and is now one of our most popular tourist attractions. This is a credit to the management and the workforce and I took the opportunity to put on record my thanks for everything they contribute to the local area."