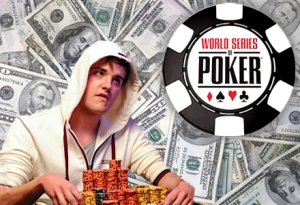 Pius Heinz has won the 2011 World Series of Poker Main Event, defeating Martin Staszko to earn the gold bracelet, $8.7m and immortality as the first German player to take poker's ultimate title. With Ben Lamb having been escorted to the exits just minutes into Tuesday's play, it took six more hours of seesaw heads-up action for the 22-year-old Heinz to see off the 35-year-old Staszko, who 'settled' for second place and $5.433m.
While Staszko had built a sizable chip lead at Lamb's expense, Heinz regained pole position with an all-in shove that forced Staszko to concede 31.5m. The momentum turned again on Hand #203, with Staszko's queens putting the Czech 15m up over the German. Heinz took the next three pots in quick succession to regain a 28m lead, but Staszko forced Heinz to fold on the biggest pot yet (72m), which put Staszko up over 141m to Heinz' 64.6m. Undeterred, Heinz reclaimed the top spot just six hands later, expanding his lead to almost 28m by the break after Hand #243.
Level 42 (not the 1980's UK funk act) began with a bang, as Staszko regained the lead on a five-bet all-in shove. Twenty hands later, Staszko had increased his lead to an almost 3:1 ratio (150.6m to 55.3m). Heinz chipped away at Staszko's stack, and took a 20m+ bite out of Staszko on Hand #288, but when the break came a few hands later, Staszko was still ahead: 124.75m to 81.15m.
It has to be said that, no matter what the situation, the 22-year-old Heinz always looked cool as Alpine ice in his immaculate white hoodie. Staszko, with his plaid shirt, sweaty forehead and SuperCuts hairdo, looked very much like an Eastern Bloc chess-playing former automotive factory worker. Honestly, it was like the ghost of Steve Jobs was playing Bill Gates. Then came hand #293, when Heinz went all in, and Staszko's bid for a flush draw came up blank. Just like that, Heinz was on top 161.5m to 44.4m. (Does this mean Jobs will be back, too?)
The end came on Hand #301, when Staszko open-shoved all-in. Heinz shoved back, and cards were flipped. Staszko had 10-7 clubs, while Heinz showed A-K. The community cards helped neither man, but by not changing anything, they changed everything for this pair. Congrats to Heinz, Staszko, Lamb and the rest of this year's November Nine. Now, which one of you will lend us a tenner?