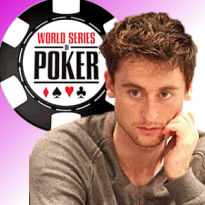 Eoghan O'Dea has been eliminated in 6th place at the 2011 World Series of Poker Main Event final table, earning $1.72m. The 26-year-old Irishman started the day second in chips, and O'Dea's father Donnacha (who ironically finished 6th at the 1983 WSOP Main Event) was on hand to lend his support, but this was not to be the O'Dea's day.
The coup de grace came courtesy of Martin Staszko's pair of eights, but the younger O'Dea's fortunes started to decline on Hand #39, in which Pius Heinz debated (for a full five minutes) whether his queens could stand up to O'Dea's bluff. Eventually, Heinz went all-in, and O'Dea waited all of 15 seconds before folding. The monster pot lowered O'Dea's chip-stack position from second-highest to second-lowest. On Hand #97, O'Dea was looking to put a serious crimp in Ben Lamb's WSOP hopes, but an 8 on the river lifted Lamb's ass out of the fire and the loss left O'Dea with just 2.6m chips.
There was a lot of media hype in advance of the final table as to the November Nine's international variety, and how American players had supposedly fallen off the pace of late, but we can't help but notice that the three Yanks are still in the thick of it. Germany's Heinz continues to lead the chip count with 67.3m, followed by Matt Giannetti at 50.3m, the Czech Republic's Staszko at 41m, Lamb at 28.8m and Phil Collins at 18.4m.
Last year's WSOP Main Event champ Jonathan Duhamel has signed up to promote the Stardust Poker Mansion, a live poker room located on the Kahnawake Indian territory south of Montreal, Quebec. The Mansion is managed by Yann Bergeron and Isham Yamani, and will feature 20 tables and a 'gourmet restaurant' (what – no poutine?). Joining Duhamel are fellow pros Marc Étienne McLaughlin, Chris McClung, Gabriel Houle Morin and Geneviève Gloutnez.