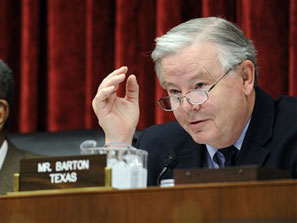 Last week we saw Poker get the focus of a Congressional subcommittee hearing, with all eyes on the HR 2366 bill proposed by Rep. Joe Barton. A bill which would establish a legal and regulatory framework for online gambling, giving States the power to regulate online poker.
To sum things up, some of the bill's proposed limitations to online poker playing are:
the player must be 21 – though this isn't too much of a revelation as land0based casinos follow this rule
the bill calls for a master self-exclusion list to assist the opting-out of self-identified problem gamblers
no credit cards can be used to make deposits into the licensed poker sites
it also makes it a criminal act to use poker bots, so you have to play the cards you're dealt.
The house subcommittee heard opinions on the the bill from both sides of the fence. However, the highlight had to be when Ms. Parry Aftab of FairPlay USA, which is all about "saving the children", opined that unregulated sites could be run by "terrorist organizations, underworld criminals, or people out of their garages". Adding: "anything that can go wrong does go wrong" on unregulated sites. Jeez, nothing like thinking the worse.
In light of this madness, we polled our readers by asking the question: "After the first subcommittee on the Barton Poker Bill, I am…?"
There wasn't much of a landslide between votes polled by those who are concerned with the bill either way. 29% of our readers who voted said they are pessimistic about HR 2366 bill, where 21% said they are optimistic.
But the overriding number of votes, with a majority of 50%, said after the subcommittee meeting, "I am afraid of terrorists and robots". Does this mean many of you don't really give a shit what happens in terms of limits to your online poker playing? Or that you really do (of course you do) but you're just genuinely more scared of terrorists and robots? We don't blame you, terrorists are pretty scary – especially when they arer running your favourite unregulated poker site…