William Hill has taken what it hopes will be a divisive action in Tel Aviv with the dismissal of seven senior managers. The Telegraph reports that the British bookie made the move after uncovering a plan to set up a rival business that was at the root of the problems that have affected the firm. Chief executive Ralph Topping became suspicious when information was being withheld by bosses in Tel Aviv and was quoted by the paper as saying: "I'm absolutely furious but cannot comment further."
The Scots are known for using an expletive or two so we're assuming the Daily TelegRAHph took out the usage of the word fu..
We can only speculate as to what Playtech's position on the whole situation as their only comment has been to confirm that Hills were investigating. At present, it looks increasingly more likely that both sides are counting down to the October 2013 date when the joint venture can be cancelled and they go their separate ways. In addition to the seven firings, Henry Birch, CEO of WHO and COO Jim Mullen will be based in Tel Aviv for the next few months to make sure the mutineers behave.
Long-time friendly foe Ladbrokes are showing there's such a thing as a joint venture that works. They're understandably lauding it over their decision to open up an online betting site in South Africa two months ago. Between August and September the company is reporting that South African customers have increase by 50%, turnover is up by 25% and bets placed have risen by 40%.
Anil Kotze, marketing manager at Ladbrokes, is buoyish on the Springbok market and commented, "South Africa's online sports betting market is worth about R660-million and is expected to grow to about R800-million over the next two years, especially in the top local sports such as horse racing, rugby, football, cricket, golf and tennis. For this year's Rugby World Cup alone, more than 3000 bets have been placed on the tournament so far. We anticipate similar interest in numbers for the upcoming cricket season."
Even though Ladbrokes and their joint venture with land-based operator KaiRo International Group is going well, it's still been problematic trying to tie up a more meaningful partnership. Shouldn't be so picky Rich!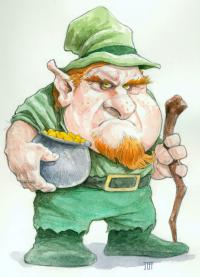 Paddy Power has seen its Chief Information Officer depart after only nine months in charge. Kevin O'Connor took up a new role at NYSE Technologies in September and will be working in the same capacity he did at Paddy. When ComputerWeekly.com asked him about the new role he professed that it's "a lot of fun."
His definition of "fun" must differ to Paddy's. Reports are that he wasn't happy at having to don the leprechaun suit when canvassing for business on Dublin High Street. How could NYSE technologies be any more "fun" than that!