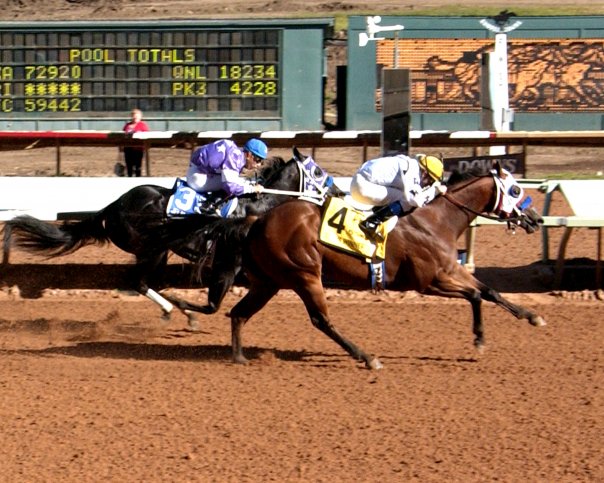 US horseracing is continuing to decline with the total amount bet dipping below $1bn. According to figures by Equibase, the amount bet overall, or handle, at US racetracks declined by 12.3% to $982m with the horserace gambling industry struggling to keep pace with other sports. The handle for 2011 is declining rapidly and so far down 7.7% at $7.5bn. Purses also declined by 7.7% to $96m for August with race dates following a global decline and diminishing by 6.6% to 527. Churchill Downs has seen the amount wagered at its online operation continue to flourish despite the amount being bet on horseracing overall in a decline.
It looks the Jockey Club needs to get to work spending that $10m on improvements. Although if their reality TV idea makes it over to the UK, we'd advise them not to hook up with Channel 4. Their fierce pursuit of getting couples to hook up for some nookie on Big Brother could present disastrous consequences. It's clear something needs to be done quickly to arrest US horseracing's decline though.
Campaigners in New Jersey are continuing to fight a veto by Gov. Chris Christie that prevented Atlantic City's racecourse receiving $15million. The money would gave come from the city's beleaguered casino industry and the subsidies were to be the first ever received by the Atlantic City Race Course. The casino industry that is fully behind Christie's veto are understanding of the plight. They don't feel that it's their job to prop up the horseracing industry though.
Casino Association of New Jersey Vice President Joseph Corbo, said, "While we understand it is a difficult transitional period for New Jersey horseracing as they work to become a self-sustaining industry, it is no longer possible in this economic climate for casinos to subsidize the horseracing industry's tens of millions of dollars in losses each year."
Horseracing groups have filed an appeal against the decision with the Thoroughbred Breeders Association of New Jersey legally challenging the Governor.
There are other options for the horseracing industry. That would come in the shape of Senator Raymond Lesniak's recently reintroduced online gambling industry bill. It's though that would divert as much as $20million in the direction of the horseracing industry.
Comments