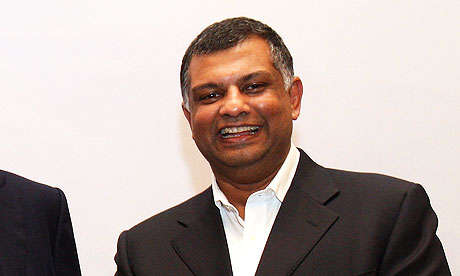 Asian influence in England's Premier League has increased today as one of the league's newest clubs has been taken over by a wealthy Far East businessman. Tony Fernandes, the part-owner of budget airline Air Asia, has taken over 66% of Queens Park Rangers from Bernie Ecclestone and Flavio Briatori for a fee thought to be around £35million.
It brings to an end the reign of the controversial former owners that had a torturous relationship with the fans. This extended to ludicrous ticket price hikes upon promotion and the reluctance to invest in a squad that is far from good enough to stay in the Premier League in its current state.
Fernandes has promised to give £10m to manager Neil Warnock for transfers and sounds like one of the good guys (code for he probably won't do that well and may end up naff all at the end of it all). There are rumors already that he will look to drive down ticket prices and consult with fans on a regular basis.
The move should also mean that the club gets more exposure in Asia. Without a shirt sponsor, it's very likely they will be sponsored by Asian budget airline Air Asia. His brands are also likely to be promoted heavily around ground and much of this will be geared towards success in the Asian market. The deal brings the number of Asian based owners to three (Blackburn and Man City the other two) and means that six sides in the top flight will have sponsorship geared towards the Asian market – four of those focused entirely on the gaming industry.