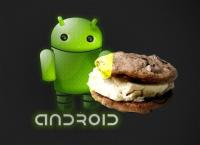 Being the world's largest smart phone operating system means that anticipation ahead of new Android releases will always be feverish – and that's just the handset manufacturers. When it's Google themselves making the release, the technology geeks around the world are having their Take That comeback tour moment. Android Ice Cream Sandwich is just that.
The latest incarnation of the OS, although not actually available until the autumn, oozed out of the rumor mill earlier this week and as the name suggests it was a tasty helping for the tech geeks. Like a Maxibon ice cream sandwich. Only you get three at a time.
Android's sandwich will be filled with a new launcher and app drawer, revamped notification bar and it will even have a new shade of makeup that will manifest itself in a cool blue hue.
According to Android Police the new OS will also have a panoramic mode in the camera and Gmail has a new theme that will fit in with the "blue hue." Those that have Android devices that are elder statesmen of the range will also be happy to know that their devices will be able to run it. Much like when a footballer returns from injury and everyone says it will be like a new signing only for them to fizz and then go bang. This is much like what will happen when you receive your Ice Cream Sandwich.
It's likely that the update will speed up many devices and make gambling industry apps run a lot faster. The problem with Android will still be the amount of apps that exist in their cumbersome Android Market. Until this is smashed up and given a new lease of life it will put off some app developers.