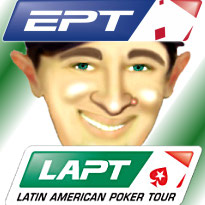 Day 3 at the European Poker Tour Kalinin main event saw the remaining 63 players do battle, with 24 survivors heading into Day 4 on Saturday. Leading the pack is Ronny Kaiser with 1.194m chips, comfortably ahead of Grzegorz Cichocki's 867k. Finnish pro Jani Sointula is third with 640k, while Johan van Til, Sami Kelopuro and Tojtech Ruzicka are the only other players above 500k.
Day 2 at the Latin American Poker Tour Punta del Este main event in Uruguay is in the books. From a starting field of 422, just 27 players are still fighting for the $244k top prize. Cassio Kiles leads the pack with 1.12m chips, with Andrey Tsitovich well back at 712k and Juan Jose Perez at 617k.
The Women in Poker Hall of Fame has announced three new inductees. Pro player Kristy Gazes is 19th on the Hendon Mob Database's Women's All Time Money List, with 10 cashes at the World Series of Poker and 11 at the World Poker Tour. Phyllis Caro (wife of author Mike Caro) started her career as a dealer (cards, in case you reprobates had any doubts) way back in 1979 and is currently director of poker operations at Hollywood Park Casino. Margie Heintz was the first woman to deal cards at the 1977 WSOP (including the televised final table) and currently makes her bones as director of poker operation at El Dorado Casino.
Phil Hellmuth has been ranked as #12 on the 50 Most Punchable Faces in Sports. The list, compiled by BleacherReport.com's Amber Lee, doesn't include any other poker players, unless you count Alex Rodriguez. So, why Phil? Take it away, Amber…
Imagine you just won a poker tournament and knocked out a legend in the process. Now imagine that legend publicly berates you by insisting your win was nothing more than an inexplicable fluke: a product of your vast ignorance as an amateur. Is there any retaliation, outside of one involving a firearm, that would make you regret throwing that punch? In fact, you'd probably punch him again, after he angrily derided you for throwing the less statistically probable left hook instead of the right uppercut any real professional would have thrown.