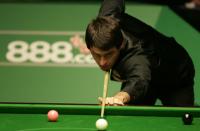 888 Holdings is reportedly readying itself for a shot at gaining an online poker license in Nevada. According to Bloomberg, deputy chairman Brian Mattingley explained the firm is at "advanced stages" of talks with Caesars Entertainment Corp over a joint venture in the state.
Mattingley added, "We would love to do it with them," before stating they would decide whether to try for the license by "mid-autumn".
It comes after William Hill decided it was entering the state by buying three companies to offer sports bets. In their case, it tied their hands even more than before as they had to gain approval from the Nevada Gaming Commission (NGC). Thanks to them being a public company, it means that they may miss out on the lucrative opportunities that private companies are enjoying and will continue to enjoy in Asia. This may or may not be the case for 888.
888 also released its half-year results earlier today and for the most part the bigwigs will be happy. Year-on-year revenue growth increased by 29% to US$79m and much of this was down to the investment made in their poker platform. James Hollins, analyst at Evolution Securities, told eGR that the results were "stellar" and that they were "reaping the rewards" of their choice to invest in poker. Whether they celebrated it by glugging down a pint of Stella, only they know (send us through the photos though!)
Mattingley added, "This quarter has seen strong performance in B2C for 888 especially in poker and casino. We have been focused as ever on our goals – further bolstering our B2C performance and leveraging our industry-leading offerings, while maintaining our Dragonfish brand presence and B2B deal pipeline."
As we earlier mentioned, poker was one of the star performers. B2C poker revenues reached US$13m, a 58% increase on the previous year. Add this to the casino revenue increase of 34% to $36m and you see why they're all quite pleased with themselves.