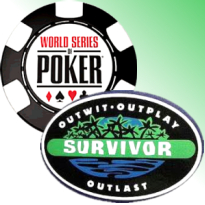 Wednesday was an off-day for players still in the hunt for the 2011 World Series of Poker Main Event title. When Day 3 action commences at the Rio on Thursday, 1,864 players from the original field of 6,865 will take to the felts to resume their quest for poker immortality (and a whopping great payday). Ben Lamb is the current chip leader at 551,600, with Kevin Saul close behind at 542,200. (For the record, it will take 205,950,000 chips to claim the title.) Lamb is definitely riding a hot streak, having picked up his first ever gold bracelet, along with three other top-12 finishes at this year's tourney, banking $1.3m in the process.
Other notables hovering around the top of the chip counts include Patrik Antonius (361,100) and The Simpsons co-creator Sam Simon (317,900). There are just two 2010 November Niners still playing (John Racener and Joseph Cheong). While last year's champ, Jonathan Duhamel, saw his dreams of a repeat victory dashed on Day 2A, there are seven former Main Event champs still alive, including Carlos Mortensen, Joe Cada and Phil Hellmuth.
Like Lamb, the 2011 tourney has been very good to Hellmuth, with a record three second-place finishes to his name. The number two is clearly giving Hellmuth fits, as the Poker Brat very nearly ended up eliminated when he failed to show up to take his seat on Day 2A. Under the impression that he was scheduled to play on Day 2B, Hellmuth had retired to his hotel room having switched his phone off and issued 'do not disturb' instructions to hotel staff. Fortunately, Mike Matusow played Paul Revere, alerting staff as to the severity of the emergency, after which hotel security delivered Hellmuth's wake-up call via forced entry. By the time Hellmuth made it to the Rio, his 11,800 stack had been blinded down to 6,975, but give the man credit for grace under pressure. By the end of Day 2A, Hellmuth was back up to 64,900 (putting him in 1,249th place)
Compare Hellmuth's situation with that of Carter Gill, who was perfectly willing to show up for Day 2A on time, but was prevented from taking his seat after an incident that prompted Caesars Entertainment to bar Gill from all their properties, including the Rio. Allegedly, Gill tossed a girl's clothes out his hotel room window, the girl complained, yada yada yada, no more 2011 WSOP for Gill. Hope she was worth it.
Starting Thursday night, ESPN2 will be airing select action – with hole card cameras — on a half-hour delay. The action will be broadcast 7-9pm and 11-pm-2:30am EST each night until Tuesday. The ESPN announcers who will be calling the action as it happens will be sequestered away from the playing tables, with no cell phones or other communication devices allowed into this area. Eager to play down any concerns that the hole card info will leak out in real time, the WSOP's Ty Stewart stated that all the bubble boys "have been background checked and approved by [the Nevada Gaming Commission], and there will be heavy security and surveillance." Stewart envisions players treating the delayed hole card broadcasts like a football half-time, allowing them "to assess the play of your competitors and make adjustments mid-tournament." Okay, but how exactly does a poker player start the second half with an onside kick?