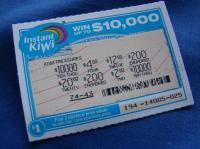 Online lottery scratch cards could soon be available in New Zealand under plans being discussed. The Lotteries Commission unveiled its Statement of Intent for the next two financial years and it includes a push towards online gambling. It would mean that Instant Kiwi would be available online and the idea is to help the company improve its sales.
As expected, the plans have come under attack, Problem Gambling Foundation spokesperson Graham Aitken, telling TV ONE, "You get online and start buying these things and start losing your rationality and start losing quite big money."
Aitken did recognize that Lotto is usually less harmful but added, "Whether it's going to burgeon and go out of control, we don't know… We know that it's starting but we don't know how far it's going to go."
It might be useful for us to allude to the findings of Professor Patrick Basham who stated earlier this year, "a taste for risk is essential for human development. Entrepreneurship and risk-taking have always been essential parts of a progressive society and a progressing society."
NZ Lotteries are responsible for rolling the plans out, and their chief executive Todd McLeay said that nothing has yet been set in stone.
"Any move to introduce more products to our online channel, such as instants, would have to meet our high standards of social responsibility and would be subject to Government approval," he said.
"At this stage, we are not consulting with the Government regarding any additional products being offered online."