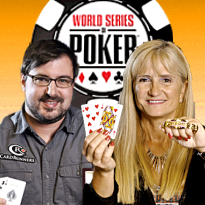 When the final table assembled for the World Series of Poker's Event #53, the Ladies' $1k NLHE Championship, female poker fans must have been especially nervous to see a dick at the table. Jonathan Epstein, one of 15 male players who dared risk never getting laid again by taking part in the event, was still very much in contention when it came to the final nine. Fortunately, he was sent swiftly packing, earning almost $14k and this quote from the WSOP announcer: "He's single and unemployed. No surprise on either count."
With the dickishness out of the way, the ladies got down to business. In the end, real estate investor Marsha Wolak took top honors, dispatching heads-up opponent Karina Jett in a single hand. Jett, who has previously recorded two fourth-place finishes in this event, took home $119k for being Ladies Championship bridesmaid. Wolak earned $192k and the eternal gratitude of women everywhere for not being Jonathan Epstein.
Matt Matros has taken Event #52, the $2,500 Mixed Hold'Em. This is the second bracelet for 34-year-old pro Matros, who took a $1,500 Limit Hold'Em event title in 2010, and had just missed two final tables (finishing 11th and 12th) at this year's tourney. Matros earned $303k for besting a 580-strong field, including heads-up opponent Jonathan Lane (who earned $187k). While Matros is obviously thrilled by his victory, he was candid enough to admit that there was no way to "repeat the feeling of winning your first bracelet."
That sentiment must be well understood by Doyle Brunson, who has 10 of the shiny gold things on his mantlepiece. After busting out of the $50k Poker Players Championship, Brunson tweeted "No main event for me. Maybe the DOJ will stake me." Brunson subsequently announced that he wasn't done with tournament poker, but that he had "lost a lot of passion for the game since Black Friday."
The Main Event gets underway Thursday (7th) and prognosticators are out in force, trying to guess whether the 7% increase in attendance witnessed so far at the 2011 WSOP will produce a larger ME field. WSOP tournament director Jack Effel told the Associated Press that there "aren't empty tables this year. We're at capacity nearly all day, every day. What we're seeing is a lot of the real poker players, the guys who play poker regularly … we're seeing those guys more prominently than we have in the past. I think the big thing is that people want to win a seat for the main event. They want to get in – they've got to have some way to do that."
Of course, many players were hoping their way in would come via online satellites, a strategy that went 'poof' after the Black Friday indictments knocked PokerStars, Full Tilt and the Cereus sites off the grid. Though the WSOP has added additional satellite events this week, Greg Raymer, 2004 WSOP ME champ, expects this year's ME to fall below 6,000, after hitting 7,319 in 2010. While that would mean this year's top prize would fall shy of the $8.9m Jonathan Duhamel earned for winning it all last year, Raymer was philosophical. "It's not like [previous winners] were disappointed winning $5m and $7.5m." Touché.