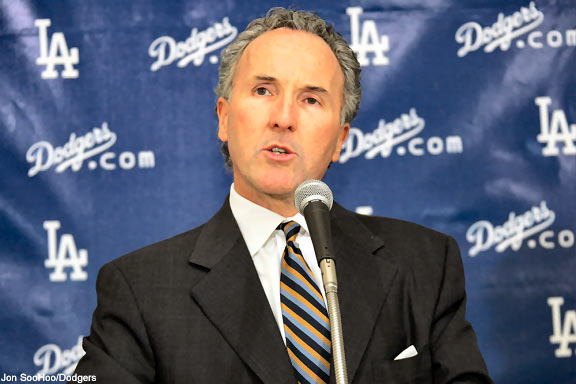 The fall from grace for the Los Angeles Dodgers has been a long, hard, and messy fall indeed. Like the Yankees, Red Sox and Cubs, the Los Angeles Dodgers are among the most historic cornerstone franchises in Major League Baseball. Rich in history, and a staple of the MLB, it's has become a tragic situation now that the Los Angeles Dodgers have filed for bankruptcy.
One man is being held responsible for the downward financial spiral of the Los Angeles Dodgers. Perhaps the worst owner in professional sports, under the shaky hand of owner Frank McCourt, the Dodgers were forced to file for bankruptcy. McCourt himself is in the midst of a messy divorce in which his wife has indicated that she would like to sell the Dodgers. How dare she!
The situation was all doom and gloom until a glimmer of positive news came yesterday when The Los Angeles Dodgers received court approval Tuesday to tap part of a $150 million bankruptcy loan from a J.P. Morgan Chase & Co.-owned hedge-fund manager that will fund the team's operations while owner McCourt tries to keep control of the team.
While the ruling from the Delaware court is a small victory for McCourt, his mismanagement of one of the most storied franchises in the MLB can't be ignored. It's clear where the MLB stands, they want McCourt out. Commissioner Bud Selig's refusal to approve a broadcast rights agreement with Fox Sports was a telling sign.
As Yahoo Sports reports, the league says the problems meeting payroll stem from McCourt's financial mismanagement, his use of team assets for his personal benefit, and "the resulting decline in attendance caused by the community's extraordinary unhappiness with the club's owner."
This situation may get a little more messy before it's all said and done. McCourt seems hell bent on keeping control of the team while the MLB is determined to hang him out to dry. According to Yahoo Sports, a person familiar with the league's plans told The Associated Press that the MLB will likely will file a motion to seize the Dodgers from McCourt.
Sportsbooks might as well capitalize on this situation and add to their MLB offerings with odds on how long will Frank McCourt be the owner of the Los Angeles Dodgers.
Comments