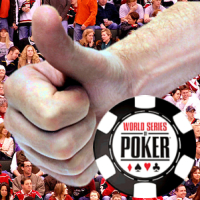 No new bracelets were handed out at the 2011 World Series of Poker on Tuesday, but we were handed some early indications as to how this tourney is faring attendance-wise compared to last year. Many observers had predicted the events of Black Friday would have a chilling effect on player participation, what with the indicted companies (and others) cutting back on promotional efforts, not to mention the number of players whose bankrolls were hung up in legal limbo and thus unable to make a buy-in.
Encouragingly, this doesn't appear to be the case, with six events experiencing growth compared to three experiencing a decline. The biggest gain was in the casino employee's event, where the bums-in-seats tally rose 17.9%. Of course, all eyes will be on the Main Event, which starts July 7. Last year's Main Event saw 7,319 entrants, the second-highest total after 2006's epic field of 8,773. Overall participation at the 2011 WSOP is (so far) up a couple percent over 2010; a modest gain, but nevertheless, on the right side of the equation.
The same can't be said for non-WSOP poker TV shows. The Hollywood Reporter examined the Black Friday fallout from a network exec's perspective and came away with the conclusion that the TV poker party is well and truly over. Sanford Millar, a Los Angeles attorney with some experience with internet gambling, suggested that any new contracts (for either new or veteran shows) will now be facing a lot more scrutiny from network lawyers. Millar says co-production deals with sites either under indictment (or under potential threat of indictments yet to be unsealed) could conceivably leave the networks open to charges of 'aiding and abetting' criminal activity. Yes, we know how daft that sounds, but network execs aren't exactly known for taking brave stances under government fire. Remember that one fleeting glimpse of Janet Jackson's pasty-covered nipple doomed us to a decade of octogenarian 'safe' Super Bowl halftime performers.