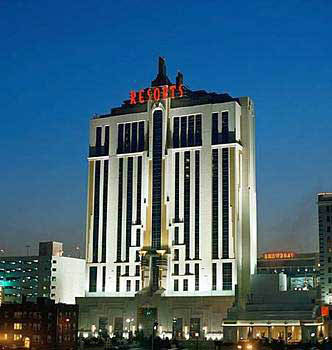 Resorts Casino Hotel announced that it would host a nightly adults-only Naked Circus in a parking lot tent starting in July. Actually, it's only mostly naked; think Cinemax after midnight.
"It'll be as naked as the law allows," said Resorts co-owner Dennis Gomes, who is fast gaining a reputation as the Howard Stern of the casino industry because of his willingness to push sex to promote his brand and generate buzz.
Gomes says it's all in effort to win back millions of dollars in business the casino lost under previous ownership that nearly closed it last fall. Here's a free tip, don't let this guy play blackjack.
The Naked Circus show, which starts the July 4 weekend, will be one of three daily circuses Resorts will host in Atlantic City. We're not sure this is what Gov. Chris Christie had in mind when he talked about casino revitalization but we're never ones to say no to naked.
The casino also unveiled its new flapper uniforms, which cocktail servers will wear from now on. The black-fringed flapper dresses, worn with black fishnet stockings, are extremely low-cut in the back.
They're the uniforms that resulted in a lawsuit from 15 servers fired in March after an outside panel hired by Resorts deemed them insufficiently sexy in the new garb.
The lawsuit is pending.
Billboards that Resorts put up around town and on the side of its Hotel show two models wearing the uniforms with part of their rear ends exposed. It's obvious they are going commando.
"Sexiness is just part of it," Gomes said. "It's excitement, fun. Everything that Las Vegas has, we're going to have."
The ceremony was held a day after the 33rd anniversary of Resorts' opening in 1978 as the nation's first casino outside Nevada.
Comments