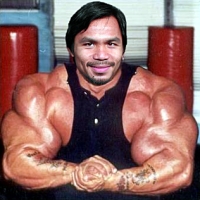 After losing a unanimous decision to Manny Pacquiao last weekend, boxer Shane Mosley decided to throw a few late punches over his Twitter feed. Claiming Manny had hit him harder than anyone else, Mosley alerted his followers to a May 3 anonymous internet post on RingTalk.com which claimed one of Manny's former Filipino sparring partners had admitted to injecting the fighter with steroids and human growth hormone (HGH) before his 2009 bout against Oscar de la Hoya. Naturally, class act Floyd Mayweather Jr. immediately alerted his own 1.2m followers to the post's existence.
As the unattributed, outlandish claim spread far and wide, Pacquiao's camp released a statement which described the claim as "completely false, totally fabricated, and, not surprisingly, leveled by someone who will not even identify himself. I did not even have a Filipino sparring partner during my training for the fight against De La Hoya or for any fight since then. I have never taken steroids, HGH, or any banned performance-enhancing drug. Period.
My success in the ring is due to hard work, belief in God, and the support of my fans. Like every boxer, I am required to take drug tests in connection with every professional fight in the United States. I have passed every one, including my fight against De la Hoya and my most recent victory against Shane Mosley. I will fight to protect my hard-earned good name and reputation."
We'd like to start our own outlandish rumor surrounding the fight, specifically, that Mosley's hyping of the Pacquiao slur was at attempt to void the $25k bet placed on Pacquiao by comedian and host of Sports Show with Norm MacDonald, er, Norm MacDonald. Norm's earned a reputation as something of a degen sports bettor, which you might think is the sole reason someone would risk $25k to win a comparatively paltry $3,125. Frankly, we think Norm did it just to piss off Mayweather, who has not been shy about bragging of his own Vegas sportsbook triumphs. For the record, Mayweather claims he didn't watch the Pacquiao/Mosley fight because he didn't want to put his pay-per-view money into Top Rank promoter Bob Arum's pocket. Well, that and Floyd was worried that watching Manny fight might give him nightmares.
Comments