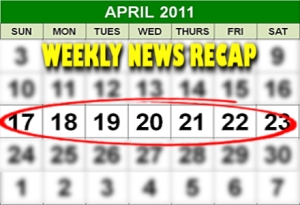 We start with quick links to some of our Black Friday poker implosion coverage from the past week, including PokerStars and Full Tilt reaching deals with the Department of Justice to enable players to access their deposits; why suggestions that the remaining US-facing poker rooms can pick up the slack are off base; Prof. I. Nelson Rose's picks for winners and losers; plus a profile of the DoJ's man of the moment, US Attorney Preet Bharara.
iSpy: Media freakout over news that Apple mobile devices are watching you
Despite the 'revelation' actually being a year old, the media made a lot of applesauce out of the fact that Apple's mega-popular iPhone and iPad devices are storing your comings and goings on a hidden data file.
William Hill posts boffo Q1 results
So far, William Hill is rather enjoying 2011, with Q1 net revenues up 11%. William Hill Online had an even better quarter, with net revenue up 26%, driven by a 54% boost in online sportsbook revenue.
The CIA looks to open its own betting site
As the DoJ cracks down on poker, the CIA wants to open a real-money predictions market to analyze threats to online information security. Bet they won't have problems getting their financial transactions processed by big banks.
Bookmakers post odds on who Imogen Thomas is schtupping
As we wait for the UK courts to stop pretending that 'super injunctions' are actually legal, bookies are allowing punters to speculate which famous footballer broke his marriage vows by going offside with totty temptress Imogen (pictured at right).
Macau revenues boost Wynn Resorts Q1 figures
Wynn Resorts might have kissed their deal with PokerStars goodbye, but they got over that disappointment pretty quickly. After all, that online poker deal only promised revenue, whereas their presence in Macau guarantees black ink on their financial ledgers.
European Commission rejects Greece's gambling regulations… again
As the saying goes, beware Greeks bearing gifts… or homework, apparently. For the second time, the headmasters at the European Commission have marked Greece's proposed gambling regulation revamp with a big red 'F' and told them to do it over again. And this time, show your damn work…
The fight for net neutrality washes up on UK shores
Internet service providers keep trying to make their two-tiered online fantasies a reality, while free speech advocates and anybody with a shred of sense keeps trying to beat the greedy bastards back.
VIDEO PICK: European Commission bigwig talks regulation
Our own Rebecca Liggero gets the European Commission's Jean Bergevin, Head of Unit, Internal Market and Services, to admit on camera that he's not a gambling man. Oh, and he also discusses protectionism and the likelihood of a workable pan-European gambling regulatory environment.
Comments