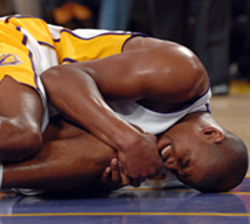 They say hindsight is 20/20 and that it's easy to second guess decisions after we see the final results, and though that may be true, that's exactly what I plan to do here. First up is Andrew Bynum and the Los Angeles Lakers, and we'll finish up with Josh Hamilton.
The Los Angeles Lakers rolled the dice when they decided to play Andrew Bynum in their second to last regular season game against the San Antonio Spurs. I understand that the Lakers were trying to end a 5 game slide and I understand that they wanted to secure second place in the conference, that makes sense. But, considering the Spurs started a lineup that didn't include anyone named Duncan, Ginobili, Parker or McDyess; if the Lakers could win a championship without him then they didn't need him against the Spurs last night to get the win.
Also, there was no way in hell the Spurs wanted to win that game, there's no freaking way the Spurs want the Lakers to end up as a 4 seed so that they face them in the second round. The Spurs don't want to see LA until the conference final, that's just common sense.
Keep in mind, Bynum has never played a full season in the league and as young as he is, he's already had a career's worth of surgery on his knees. All I'm saying is that Bynum should have been shut down for the last few games of the regular season because this year, the Lakers will really need him in the playoffs. They certainly didn't need him to beat a Spurs team without any of their starters and they wouldn't have needed him to beat Sacramento tonight. The Lakers should have been happy that Bynum was still walking at this point in the season and sat his fragile ass down.
Hopefully, the MRI will show minimal damage and Bynum won't miss too much time so that the Lakers can defend their title at full strength.
As I said earlier, it's easy to second guess a play or a move when you've seen the final result, and Josh Hamilton is now blaming his injury on his third base coach. Hamilton broke his arm while trying to snake home on a foul pop fly in which the pitcher failed to cover the plate. According to Hamilton, he didn't want to risk it, but his third base coach Dave Anderson told him to go and Hamilton followed orders. Now Hamilton, last year's A.L MVP is out for 6-8 weeks with a broken arm.
I don't want to second guess the aggressive base running strategy of the Rangers considering they're off to the best start in franchise history. But I will say that there's a reason they teach baseball players at an early age not to slide head first into home plate, and to leave that to professionals. Well, turns out it's just as dangerous for professionals.
Should Josh Hamilton be throwing his third base coach under the bus? Probably not. Does he have the right to speak his mind and tell the truth about what he was thinking? Hell yes. Anyone that takes a shot at Hamilton for speaking his mind doesn't get it. Considering Hamilton only expressed his disapproval with the call, and by speaking his mind, he did something we all want athletes to do, I'd say he was justified. Throw in the fact that Hamilton is a better judge of his own speed than anyone else, I'd say he knows exactly what he's talking about.
That said, for the record, I would have sent him too. You play to win the game and if you get thrown under the bus for it, you brush yourself off and get back out there the next day. That's baseball.
Comments