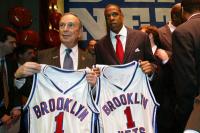 Controversial stories about rappers and separately about NBA basketball are nothing to write home about. While he ponders life sipping tha sizzurp Lil' Wayne will be safe in the knowledge that he'll probably see jail time again at some point and you can imagine that Ron Artest is excitedly awaiting the next time a fan is super nasty to him.
The two colliding is not necessarily what you want to hear. When you hear that it's the biggest rap star on the planet, Jay-Z, it probably calms you down a bit.
The reason the hip-hop star is having his knuckles rapped has nothing to do with him spitting beats about LeBron James and has everything to do with him visiting a college locker room.
As part owner of the New Jersey Nets the NBA prohibits him from doing this so when he stepped into the locker room of the Kentucky Wildcats he was breaking the rules. It doesn't matter whether he was giving them pointers on how to get a woman as good as Beyonce. It makes no bones if he was giving them some lessons in how to sing hip-hop. The fact that he was talking to college prospects is enough in itself.
The New York star didn't, however, break any rules at college level which means he can add the NBA to one of the problems that makes the list of 99. He's probably not the only person with the David Stern headed league there either.