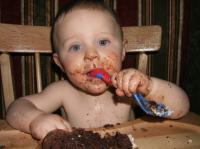 If rumors are to be believed you might find PokerListings.com with cake all over their lips. That's because, according to Bluff Magazine, the site is the front-runner to buy the Cake Poker Network in a move that could shake up the online poker industry.
After DoylesRoom.com recently upped sticks and moved out of the Cake Poker estate the rumors of when Cake would be taken over intensified and the source cited by Bluff, who broke the news, is 90% certain that the deal will be completed in the next 15 days.
PokerNewsDaily also carries the story and a source on their site has identified that the purchase by PokerListings.com will represent a significant "conflict of interest." It comes due to the fact that the site promotes a number of different poker sites, including PokerStars and UB.com, and Cake Poker is prominently displayed on the site as "Today's Best Offer," and receives the highest rating of 8.2/10.
The takeover won't be a surprise to many in the online gaming industry after traffic was down year-on-year by 69% in 2010 and the aforementioned departure of DoylesRoom.com. There are a number of sites running on Cake, such as Phil Laak's Unabomber Poker, and Victory Poker, that will be interested to see what happens to the network over the coming weeks.
Cake is yet to release a statement regarding the rumor but CalvinAyre.com will be sure to investigate the story further, report back any new details that we come across and break the news right here on the tablog.