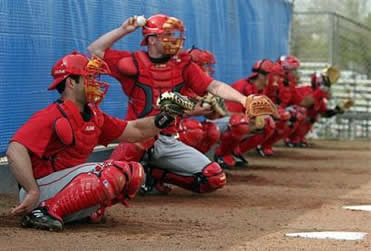 When Cliff Lee shunned the Yankees to join the Philadelphia Phillies, the Phillies became the team to beat this season. 5Dimes Sportsbook currently lists the Phillies at +330 with the Yankees +650 and Red Sox +675 next in line. The Phillies are also +175 to win the National League Pennant at 5Dimes with the Giants at +600. Bodog has the Phillies at 13/4 to win the 2011 World Series and the Yankees at 13/2 and the Red Sox at 5/1 to win the crown.
With Roy Halladay, Roy Oswalt, Cole Hamels and now Cliff Lee, the Phillies sport one of the most intimidating starting rotations since the 90's Braves Hall of Fame rotation.
This week pitchers and catchers report to Spring Training and for the Yankees, starting pitching is something they are in dire need of right now. As for their division rivals the Red Sox, they've boosted their lineup with the addition of Adrian Gonzales and Carl Crawford. Injuries to key players derailed the 2010 season for Beantown, but if the Red Sox can stay healthy this year they should be contenders.
If there's one thing we learned from last year it's that anything can happen in baseball. Unlike other sports, like the NFL and the NBA, the team with best players and the best pitchers on paper don't always win in baseball. It's the team peaks at the right time, the Giants showed us that last year.
Comments