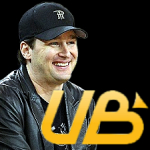 In an interview with CardPlayer.com, Phil Hellmuth discussed his recent departure from UB.com. For the record, the Poker Brat stated that the split was "a joint decision" and, despite announcing his departure just hours after Annie Duke did likewise, Hellmuth claims the two players never discussed their plans, describing the timing as "a coincidence." Referring to himself as "a loyal guy," Hellmuth said he wished nothing but continued success for his former associates at UB.com.
While suspicions were strong that Hellmuth would find a new home fronting the World Series of Poker's online ventures, he claims to have made no decision as to any future signing, and is "taking calls from everyone." He mentioned numerous sites that might be a good fit, including PokerStars, Full Tilt, Bodog and even Zynga. Regarding the latter, Hellmuth feels that, should US law change, Zynga would be "suddenly sitting on a $5b poker site."
Away from the poker world, Hellmuth confirmed that he was to meet with representatives from Dancing With The Stars about his possible involvement on the next installment of the popular program, although he was careful to say that nothing was set in stone just yet. Love to be in that room when they ask Phil to give 'em a little taste of the old soft shoe.
After a frustrating year on the felts in 2010, Irish poker player Marty Smyth has decided to do what all the cool kids are doing, so he's selling his 2008 World Series of Poker bracelet for $10k. In a blog post that sounded very much like someone mired in the depths of post-holiday depression, Smyth claimed the bracelet coveted by countless players around the world "doesn't really mean much" to him, that he'd "never wear it" and hasn't so much as looked at it in over a year. However, he'd like to see someone derive some benefit from it, so if you're willing to spend at least $10k, or know someone who is, get in touch with Smyth, who promises to donate all funds raised to kids' hospitals in Belfast and Dublin.
Finally, BigBet Poker has announced that it will be closing its doors at the end of the month. This was the second unsuccessful go-round for the Merge network site, having previously shut down in 2003. The site re-launched in March 2009, but couldn't make a go of things. Players have until Jan. 31 to withdraw their deposits.