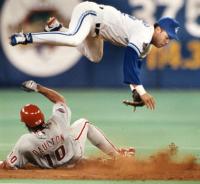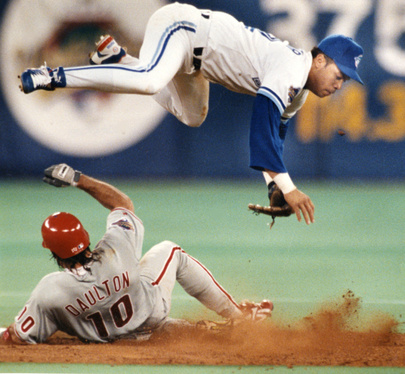 Roberto Alomar and Bert Blyleven have been elected to the baseball Hall of Fame.
The Baseball Writers' Association of America named Alomar and Blyleven on over 75% of the ballots, after both narrowly missing that mark in 2010.
Robbie Alomar will be the first player representing Toronto Blue Jays in baseball's Hall of Fame, while Blyleven will likely go into the Hall as a Minnesota Twin.
A 12x All-Star, Alomar played 17 seasons, five of which were with Canada's lone remaining MLB team. Alomar finished with a career batting average of .300, 2,724 hits, 210 Homeruns, 1,134 RBI and 474 stolen bases.
His bat was nice but it was his 10 Gold Glove Awards and his flair for the dramatic that stood out. Alomar joined the Blue Jays in 1991 when the franchise was on the cusp of greatness. He was the bump Toronto needed as they won the World Series in 1992 and 1993.
Alomar was by far the best 2nd baseman of his generation but narrowly missed induction in this first year of eligibility. In 2010, Alomar received 397 votes, just 8 votes short of reaching the magic 75% marker. It was the slimmest margin for a non-induction in hall history.
Many point to an incident where Alomar, upset about a call, argued and then spit on umpire John Hirschbeck. Hirschbeck later accepted Alomar's apology for the spitting and recently became a huge proponent for Alomar's induction into the Baseball Hall of Fame.
Bert Blyleven waited a lot longer for his call from the Hall of Fame. First eligible in 1998, Blyleven received only 17.55% of the vote. Nevertheless, his numbers are undeniable, he currently ranks fifth all time in strikeouts, 9th all time in shutouts. What held him back was his win percentage, which finished at .534. Still a grassroots campaign eventually wore down the Hall voters until he received 79% of the votes in 2011.
Looking beyond Alomar and Blyleven, the big story this year is those that didn't make it because they were playing in baseball's steroid era.
Rafael Palmeiro received just 11% of the votes in his first year of eligibility. Palmeiro, while testifying in front of congress, famously pointed a finger to say, "Let me start by telling you this: I have never used steroids, period. I don't know how to say it any more clearly than that. Never." His emphatic statement may have saved him that day but just four months later, he was suspended for testing positive for an anabolic steroid.
Mark McGwire, who was the poster boy for baseball's steroid era, only received 19.8% of the votes. He's failed to top 25% in five years of eligibility.
2011 Hall of Fame Votes
| | | |
| --- | --- | --- |
| Player | Votes | Pct |
| Roberto Alomar | 523 | 90 |
| Bert Blyleven | 463 | 79.7 |
| Barry Larkin | 361 | 62.1 |
| Jack Morris | 311 | 53.5 |
| Lee Smith | 263 | 45.3 |
| Jeff Bagwell | 242 | 41.7 |
| Tim Raines | 218 | 37.5 |
| Edgar Martinez | 191 | 32.9 |
| Alan Trammell | 141 | 24.3 |
| Larry Walker | 118 | 20.3 |
| Mark McGwire | 115 | 19.8 |
| Fred McGriff | 104 | 17.9 |
| Dave Parker | 89 | 15.3 |
| Don Mattingly | 79 | 13.6 |
| Dale Murphy | 73 | 12.6 |
| Rafael Palmeiro | 64 | 11 |
Comments