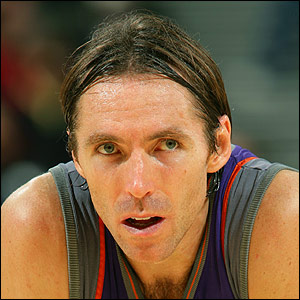 When you stand in front of the mirror naked, hands on your hips, chest robust, every real man wants to see at least one one- eyed champ in him. It appears Steve Nash may see two. And while they say in the world of the blind the one eyed man is king, well, in the world of the Phoenix Suns, the one eyed Nash is king.
Steve Nash put forth one of the most heroic and impressive efforts the NBA had ever seen in Game 4 against the San Antonio Spurs. First off, it was an elimination game, second, the Spurs have owned the Suns forever, so this was a game of epic proportions. When it appeared that the Suns were taking a strangle-hold on the game, an inadvertent elbow from Tim Duncan ripped Steve Nash open just above the eye. As soon as Nash left the floor the Spurs made a run to get back into the ball game.
It's not the first time Steve Nash was bleeding profusely against the Spurs in a meaningful playoff game.That game and series ended about as ugly as Nash's beak looked. Apart from the blood, there's nothing similar about the previous series between these two teams, the Suns are playing defense and strangely, yet soundly beating the Spurs. Sunday night would also be different for Nash.
After receiving six stitches, Steve Nash returned to court with one eye literally swollen shut. With his other eye bulging out, Nash looked like he had just received shock treatment and his play with one eye closed was shockingly magnificent. Steve Nash finished the fourth quarter with 10 points and 5 assists which are great numbers for any point guard let alone a guy playing with one eye. Nash was making sweet passes and hitting difficult shots, he was outplaying his counterparts with two good eyes and he was making it look easy. Nash's effort sealed the deal and the Suns swept the Spurs.
Nash is getting props because as always, we give props to champions over here. There were other incredible performances in the sports world Sunday night, including a Rajon Rondo's monster triple double against the Cleveland Cavaliers and in baseball the Oakland A's pitcher Dallas Braden threw a perfect game, a feat that has only been accomplished 19 times in the history of the game.
While the perfect game is tough to top, Nash is getting props from me because he basically played with a handicap. Just try and close one eye and run at full speed, things can dicey real quick. Shit, touching your nose is difficult with one eye closed, I can't imagine how he was able to shoot a 25 foot jumpshot or make accurate passes. It was truly amazing to see. I can't even piss accurately with one eye closed. The only thing most people do well with one eye closed is pass gas.
Let's hope Nash has two eyes for the next series which barring an epic comeback by the Utah Jazz, will be against the Los Angeles Lakers.