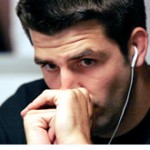 Brian Townsend has been slapped on the wrist for getting in hot water with Full Tilt again.
The so-called poker 'professional' has had his "red pro" status suspended by Full Tilt Poker – this time just for a month rather than six – after colluding with his mates by analysing thousands of their hand histories against "Isildur1".
How did he get off so lightly? Read more.