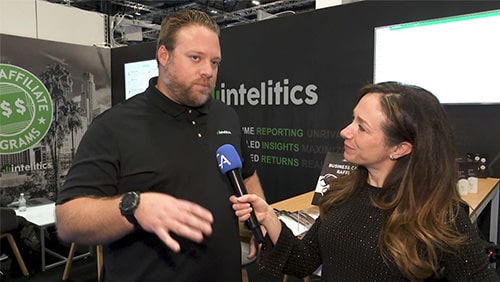 When you spend money on a marketing campaign, you want to know how much bang you got for your buck. But without the right kind of data driven technology, you might be missing out on some opportunities for your gambling operation. At ICE London 2020, our Becky Liggero Fontana met up with the CEO of Intelitics, Allan Stone, to see what they were offering to the industry.
Intelitics are offering a product that should make any marketing drive more efficient. "Our platform is built on cutting-edge real-time technology," Stone began. "So we saw a need in the marketplace to help operators better understand their marketing campaigns and channels and attribution, and so we saw an opportunity to bring to market a platform that was based on real-time analytics and to give the operators more data."
The idea for Intelitics came from experience in the affiliate side of the industry. "For the last four years we've been running an affiliate network there, brokering deals between publishers and operators," Stone said. "And just through the volume of traffic we were delivering, the players we're delivering, we saw a need from our perspective just to be able to optimize campaigns efficiently. And as we started going deeper and deeper down that funnel, we realized that the operators themselves actually had the same challenges that we were having as a network, and so we just you know thought it was a good idea to bring to market."
Having spent time on the affiliate side, Stone was ready to share some insights into how player behavior had changed over the past few years. "You know, since I've been in industry, we've seen the consumer behavior changed from really long desktop sessions, to more micro engagements on mobile and tablet," he said. "With that, where you can actually communicate and reach consumers has changed. SEO used to be very critical in success and it's still important, but there's a lot more opportunity for operators to buy media on, you know, programmatic, minimal channels, and so that was where we saw an opportunity to bring this data play in the market for them."
Thankfully though, this data driven approach can be very easy for anyone to understand. "It's very insightful, we spend a lot of time with the operators understanding their business and moving that understanding from offline, sort of Excel or database driven, into a system that allows everyone from the CEO to the executive to the head of acquisition to the actual campaign managers themselves to look at the same data sets and understand it in a very simple, easy to use intuitive interface," Stone explained.
While all marketing campaigns make some use of analytics, Stone noted that a real time approach can make a big difference in how much money is spent in the right places. "It becomes critical when you're deploying capital at scale to acquire customers," he said. "The faster you can understand, is the capital I'm deploying profitable or not, the more educated your decisions can make the better you can deploy more efficient capital."
CalvinAyre.com produces several great videos every week, with content planned from Monday to Friday. Subscribe to the CalvinAyre.com YouTube channel and make sure you don't miss out