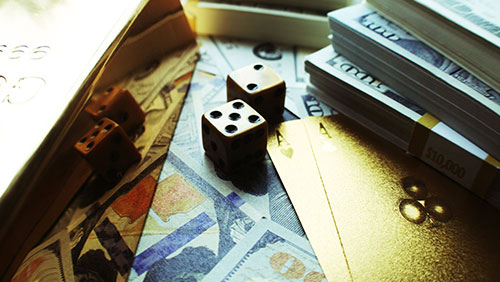 "I knew he had it. I can't fold it."
Nine words four years told us what we all already knew about poker at the highest level. No matter how good you think you are, no matter how impervious to making wrong decisions, no matter who you are, you can blow the biggest moment of your life just because you want to see what the other person has at the very moment it will end your tournament hopes.
In a Main Event already beset by the Griffin Benger/Will Kassouf playground fight, when the final table arrived, there was a very different feel to the action than in previous years. By the time Benger himself busted for $1.25 million in 7th place, there were six players left who would all make different headlines should they win.
Of the six, however, it was Cliff Josephy, a player who goes by the bizarre moniker of 'Johnny Bax', who many reckoned would win. By the time the final three remained, despite Josephy being a little behind both Qui Nguyen and Gordon Vayo, many remained convinced that 'Team Bax' was the winning team.
The pivotal hand of the final table came out of nowhere, and left the crowd stunned. In it, Josephy had pocket deuces and Vayo pocket threes. Qui Nguyen held an off-suit ace-jack, but with the chip lead, acted as something of an aggressor. Vayo's pre-flop call of Josephy raise to 2.5m chips with Josephy led to a three-bet to 7.7m from Nguyen. Both Vayo and Josephy made the call.
With a pot of 23.7 million chips, Nguyen had 133 million behind, with Josephy (94.8m) and Vayo (85m) trailing in his wake. That would not be the base for long.
The flop brought both a deuce and a three, sandwiching a king. Vayo checked, but Nguyen c-bet for 9.9m. Josephy called. Vayo called too. On the turn of a four, both Vayo and Nguyen checked to 'Johnny Bax', who led out for 21 million, leaving just 63.9m behind.
Vayo raised all-in and in doing so, forced Nguyen off the hand. Josephy had the decision to make for his essential tournament life and would be left with just eight blinds if he called.
At this point, Josephy goes to check his chips before then checking his cards and then making the call. The whole process from start to finish takes 23.8 seconds from the moment Nguyen folds his hand. When the difference in payouts from 3rd to 1st is over $4.5 million in winnings, that is an astonishingly short period of time to consider every factor in making such an important call.
What if Vayo had crumbled under the pressure of being stared down by Josephy and all the 'Team Bax' rail pros in the stand? It's not just a possibility, it's marginally probable. But Josephy made the call.
"Set under set. I knew he had it. I can't fold it." Says Josephy – to everyone and at the same time, to no-one at all other than himself. He knew it was the wrong thing to do, but like a moth dragged into a beautiful flame, he couldn't resist the purity of being so unlucky and so justifiably busted through nothing other than luck in the eyes of most people.
When he gets the bad news, Josephy goes through all manner of justifications, to himself, to his rail, to players like Shaun Deeb and Chance Kornuth. When the river is delivered and his 'Joe Cada' miracle of a deuce isn't found, Josephy admits that he was swayed by the fact that people might think he folded too light. They wouldn't have, though. They'd have worshipped him as having made the hero fold of a lifetime, a Main Event miracle that we would still be eulogizing about now. Everyone would have wanted to pull a 'Johnny Bax' and dodge a monster simply by edging out of its way. He would have been the ultimate poker hero, and not just to a young generation who worshipped him, but the older one too.
He would have been an everyman poker hero.
Call it what you want, the fear of embarrassment, the persuasion of popular opinion, but in the moment, when it really came to it, 'Johnny Bax' failed to make the decision that his enormous talent and lengthy dedication to the game had been building to his whole life.
Becoming just plain old Cliff Josephy in front of our eyes, he was a man reduced to his bare elements during the hand in general, kicking back in his chair when forced to make the decision for almost all of his chips, but earlier in the hand licking his actual lips when Nguyen put in the bet after he'd hit his set. In that moment more than most, perhaps, Josephy was doomed. He was looking at Nguyen making the c-bet when he should have been looking at the other man at the table who still had a decision to make.
We'll never know what Gordon Vayo's face was showing at that moment, because the cameras weren't on him either, but Josephy had no such restriction and still chose to look the other way. When Vayo's all-in move was made, Josephy gave himself less time than it takes to chew a mouthful of hot dog to make the decision that would cost him $4.5 million.
We may never get over the 2016 Main Event. Of course, Gordon Vayo went on to lose his chip lead heads-up and eventually withered in the face of Nguyen's dominant heads-up game, losing the title to the more aggressive man. There's no doubt that a Nguyen-Josephy final showdown would have been better entertainment. Josephy, however, misplayed one crucial hand and in no limit hold'em, one hand is all it takes.
Imagine if Josephy had employed the ability to fold in that position. He would have seen what Vayo had 30 minutes later on a delayed stream. His rail would have told him 'great fold, man.' Vayo would never have recovered and Josephy might have won $8 million and the title every poker player desires more than any other. 'Johnny Bax' will almost certainly never have that opportunity again.
Josephy's legend in poker is assured but it will also forever be linked to a single hand of poker that showed even the most dedicated of professionals can see a lifetime of skill evaporate in under 24 seconds to be replaced by human frailties, missed opportunities and a call despite knowing you're behind.
Everybody wanted Johnny Bax to win except the small part of his brain who needed to see the cards he knew would defeat him. Sometimes, the painful reality is that knowing what your opponent has at the time they have it can cost any price or any dream. It certainly did back in 2016 for Cliff Josephy.
Watch the whole hand in all its glory right here: