This is a guest contribution by Rachael Sammut of Blueclaw Media Ltd. If you would like to submit a contribution please contact Bill Beatty for submission details. Thank you.
Introduction
In today's increasingly competitive and trying gaming market, maximising hard-won traffic is vital for operators and affiliates to succeed.
The battle to increase rankings is a long and trying one, requiring both effort and energy, alongside commitment to long-term results. In turn, operators and affiliates alike can sometimes hit a (usually temporary) ceiling when it comes to their growth, positions and rankings in the SERPs (Search Engine Results Pages).
Alongside this trial, the path from an initial Google search to a deposit is one that's not only full of opportunities to engage visitors, but one that has significant scope to inadvertently push them away. The good news, however, is that there are many steps that both operators
and affiliates are able to take to monetise and maximise a larger proportion of their existing traffic.
Conversion Rate Optimisation, or CRO as it's simply referred to, is the discipline of increasing the profitable actions your website visitors take. The desired action will differ for each industry sector but, in betting and gaming, we most regularly focus on first-time deposits (FTDs).
For obvious reasons lifetime value (LTV) is also an incredibly important metric to gambling companies, however to get a clear picture on LTVs it can take months or even years. It is therefore a hard metric to run split tests against for example and FTD often ends up being more practical to use.
To be able to maximise the value derived from your organic or paid traffic – and to provide users with the quickest and easiest path to a FTD – it is vital for operators and affiliates to understand the different expectations of their target audiences, from fresh, first-time players through to experienced, savvy bettors.
Welcoming new audiences and understanding visitor intent
As we mentioned, different target audiences will have very different goals when visiting a site. In gaming, experienced bonus hunters may quickly gravitate towards the site's latest offers, while first-time players may look into rules, regulations, etc. But regardless, each visitor will have a more nuanced interest and expectation.
While end-goals may vary, it is important to remember that a user's interests and expectations commonly extend to what they expect to see, visually, and how they expect to navigate through your site.
To meet these expectations, we suggest that, above all else, the single best thing that gaming sites can do is provide a fast and reliable online experience, with crystal clear navigation and useful, engaging online content. Alongside this, it is important to ensure that your pages that perform the best in SEO actually use the phrases that visitors would have likely used to find you as this is commonly the copy that they'll latch on to during browsing.
In the same spirit, when aiming to maximise conversions it is important to use clear language that doesn't overwhelm visitors or cause them to pause or stop their natural progression through the site. To provide an inclusive experience that not only brings a visitor through to making a positive action (be it a deposit, click through to an operator partner, newsletter signup, etc.) it is also recommended that betting-insider terms or complex jargon is avoided to keep things simple, clear, and concise.
While ensuring your content is both engaging and useful, the visual side of your site is just as important. The cluttered, text-heavy nature of many gambling sites can be viewed by users as being unappealing and overwhelming, with numerous elements regularly known to slow down the experience. It may be tempting to try to bring together every market, every matchup, or every game review on one page, but in reality this scattershot approach will only ever have limited results and in some cases, quickly fails in capturing the attention of visitors.
To avoid the overbearing, scattershot approach, it is crucial that gambling sites keep the differences of target customers in mind. A seasoned bonus hunter can probably find their own way around a gambling site but, for others, it's important that site owners guide them along to the choice that will be most relevant to them.
If you're an affiliate site with a wide variety of partners, outline the differences in a clear and concise way that is easy to understand. This will not only help the visitor navigate your site and make choices, it will also increase the chances of them taking a profitable action once their selection is made – help them get it right the first time by providing human friendly content.
If you're an operator, ensuring your guiding new visitors towards the welcome offers most relevant to them is crucial when it comes to the all-important FTD. It is important to remember that first-time visitors aren't always well informed and, without a clear reason to pick between different offers, can suffer from 'option paralysis' – when there's no compelling choice to be made, no choice is made at all… which means no revenue.
When it comes to FTDs, it is important to remember that, ultimately, choices are all about contrasts. In some cases, utilising tactics such as the "Decoy Effect", where one includes a demonstrably less appealing welcome offer (or bonus code) to prompt visitors towards one of the "real" options that stand out as more valuable and interesting in comparison, can be beneficial.
To obtain a better understanding of the goals and movements of potential customers (whether they be veterans of first-time players), we strongly recommend utilising heat mapping software, eye-movement tracking, user panels, and a rigorous approach to reviewing Google Analytics. This approach will not provide insight into the minds of potential customers, but it will give you a look into the ways in which they view your brand, promotions, and CRO-based thinking.
There's no need to stop at your own site either – evaluate the customer journeys of your competitors for inspiration, as well as to ensure that your brand, your offers, and the path you present to visitors is engaging and compelling.
While utilising these tactics, ensure you are also measuring performance religiously across conversions, time on site, bounce rate, page views, and other metrics that will provide significant insight into what keeps visitors engaged and active.
The motivational power of risk – and cumulative impact
A common fear across a wide variety of industries, the idea of missing out is noted to be much more of a motivator than that of a positive opportunity.
What this means for increasing your conversion rate is that to focus on providing an engaging call to action, which encourages the visitor not to lose a chance at a free spin or promo, is regularly more effective than the invitation to benefit from free spins.
The thinking behind this includes that a positive upside is a favourable outcome, while the sense that we have an opportunity that we're on track to not take advantage of is a more effective drive for profitable action – playing on important emotions.
In short, smaller achievements and opportunities in a series are felt to be more valuable than a single opportunity of an equal value. If you were walking down the street, spotted £5 on the ground and picked it up, then an hour later the same thing happened, how lucky would you feel? Without question, the sense of luckiness would feel greater finding money twice than if you'd stumbled across £10 as a one-off.
So – providing micro-incentives will drive action, while also incentivising repeat visits and deeper engagement. Furthermore, reconfirming that winnings have been made (even if the visitor has made a loss overall) reinforces a positive experience. Likewise, a set of smaller losses is frequently more keenly felt than a single larger loss of the same sum.
Rewards justify effort
We've all experienced sites where the path to get things done seems like an absolute chore. Often, there's no way of avoiding some mandatory text input or other manual steps but the chances of onboarding a new customer are greater where the rewards justify the effort.
While your site may be highly detailed and ramified to encourage activity, or you have a new, flashy offer on promotion, not every audience wants this type of experience if the effort they need to use to sign up is higher than they believe to be justifiable.
For example, to a new casual player, earning points to unlock exclusive bonuses can be meaningless. Likewise, if an opening offer is pretty ordinary relative to the amount of data you're asking for, the strategy will under-perform.
So, what's the solution? How do you justify effort with reward?
Remember, as previously mentioned, smaller incentives (such as bonuses) can be more compelling in a series than a single large bonus offer.
In addition, having several, achievable bonuses limited to smaller bets will effectively engage these wholly new players who typically wager a small amount on their first bet. Whether you're an operator or an affiliate, this will also assist in deterring grizzled bonus-hunters looking for a bargain.
For affiliates, fresh traffic and a successful path to a FTD is dependent on engaging new bettors and being extra-sensitive to the effort required to find the information and offers that will resonate most with them.
Remember – if they get to this point, users are likely already committed to taking action but don't truly know if placing a bet or playing a game is a leisure activity they want to pursue – they can still choose to go and do something else entirely.
While you have their attention, the goal is to make it as easy as possible for them to take a confident click through to your operator partners – and know what to do once they are there without having to extend a large amount of effort.
Clearing a path and removing roadblocks to action
Due to the constant release of new games, insights and match previews, updates to sportsbook odds, and variety of offers and promotions, gaming sites are constantly changing and increasingly dynamic. Doing as much of the heavy lifting as possible for visitors is key – but it does take a mixture of rigour with your content strategy, and the use of technology to help out where possible.
With that said, it can be pretty tempting to have banners do the job of displaying new bonus codes or incentives. However, keep in mind that using flat images requires the visitor to manually remember and type out a code – a major annoyance, hindrance, and a barrier to conversion.
In the gaming industry, terms and conditions are also a roadblock that constantly needs to be addressed. As with other regulated markets, there's commonly quite a lot of small print text that is required to be displayed, especially around various bonuses. The inclusion of these regulations can sometimes add to the clutter with hard to read, low-contrast text (eg. light grey on white, or dark grey on black) that is ultimately more of a distraction than conventional high-contrast text.
While it may stop the content from being an eyesore, rather than fading into the background, low-contrast text actually makes the brain work harder to try and comprehend what's in front of the visitor, disrupting the customer journey and making important information harder to
access.
Another tip that stems back to reward over effort includes the utilisation of progressive forms to capture registration data gradually. This helps ensure that visitors complete the process, as you're only asking them for a small piece of information at a time. It is important to remember that when users register a first-time player, you should only ask them for the information you truly need – you can get more of their data later once they've successfully signed up and completed their FTD.
Likewise, pre-populating any bonus code fields where possible is a major help – bearing in mind this makes life easier for the user, plays on their lucky emotion, and the codes are, ultimately, there to be used.
Summing up
It is clear to say that the effectiveness of iGaming sites is dependent on much more than odds and offers, although it is important to stay competitive.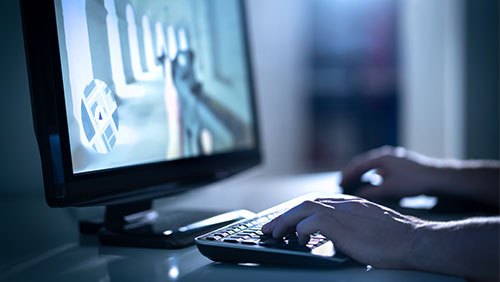 With a wide variety of sites, new and old, offering the same types of games, sports, odds, and incentives, it is vital to ensure you stand out in other ways – particularly if your goal is to attract new audiences and maximise engagement from your existing audiences.
From site speed and technical performance through to the brand, tone of voice and inclusiveness of your content, there are many opportunities to remove barriers and propel visitors towards confident, profitable action.
Repeat visits – and referrals – depend on a consistent, high-quality experience and are crucial to the success of any iGaming site. Keep in mind – can your visitors take the actions they want to take? Are they being given the information they need to convert? Are you adding any unnecessary roadblocks or distractions?
Ultimately, the data tells the story – and though you may have spent big on a fresh site or a new platform with flashy imagery, if users find it a chore then it's not a good site – no matter what your CEO or brand agency says.
Conversion Rate Optimisation is a well-established discipline and, however you choose to get started, there are plenty of resources available. Whether we're working in iGaming, travel, ecommerce, finance or a completely different industry, we at Blueclaw abide by several core CRO principles –
1. Understand your ideal audiences and ensure that each type of customer can find what they need… seamlessly. Research, segmentation, audience profiling – it all helps to create more meaningful and effective customer journeys and, ultimately, higher conversion rates.
2. Use technology to make life easy for visitors – pre-populating data and dynamically-generating targeted calls-to-action will help drive informed action and profitable results.
3. Test, test and test again – A/B and multivariate testing will ensure you put assumptions to one side, and never rest on your laurels – always be striving for better, measure effectively and take data-driven decisions, this is the key to unlocking serious growth.
We love talking CRO, SEO, PPC, and all things digital marketing! Feel free to reach out to our industry leading experts to discuss any of the above!
---
About the author
Rachael Sammut, Marketing and Sales Consultant of Blueclaw Media Ltd., from SEO, PPC and CRO through to content marketing, and social & PR, Blueclaw delivers a wide range of integrated services – but so do other digital marketing agencies.