It sounds too good to be true doesn't it? You're a busy professional, eager to play poker and win money, but with little time to spare. You'd like to make a profit at the game of poker, but can only spare, say, 30 minutes a day. Impossible? Not any more.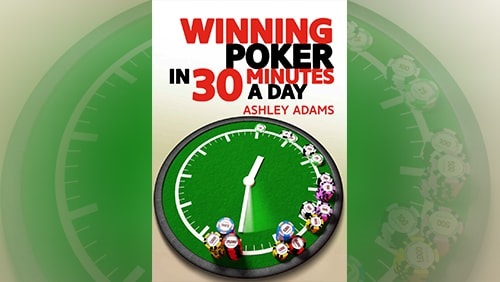 According to Ashley Adams, that is, and his new book, Winning Poker in 30 Minutes a Day.
If the idea sounds impossible, imagine that you are a competent cash game player who plays in their local casino and would like to increase the profitability of your game at that beginner-to-intermediate level that so many players sit at. Sound like you? Read on.
Ashley Adams has learned from some of the best in the game, not just in terms of playing poker, but writing about it too. Adams is looking to help no limit hold'em cash game players specifically, and tries to help players who are "intimidated by a lot of the technical material out there". What you're looking at with Winning Poker in 30 Minutes a Day is a self-help book that is aiming to assist players who are OK at the game get a little better. It's not going to turn you from Johnny Briggs into Johnny Chan.
The cash games the book focuses on are $1/$2 and $1/$3, two games that run a lot for three months either side of and during the World Series of Poker in Vegas, too, so if you are successful in implementing some of Adams' rules and regs in the book and want to take your poker game out to Sin City, then this book could work well for turning a Vegas Vacation-style holiday into a profitable poker trip you tell the folks about.
There aren't just hints and tips in the book, either. There are a number of tests at the end of sections and not only should the book improve your own game, but it aims to help you identify the type of players who you can make money from at the table, which is arguably the most useful thing you can learn when you play lower stakes. You're not looking to work out an hourly run rate for yourself because you're not a professional, but you are looking to make money rather than break even in your local game.
One thing that Adams encourages in the book is taking your own poker notes and a simple thing this might be to suggest, but it is a very valuable tip.
While Winning Poker in 30 Minutes a Day is not going to be the master strategy book of the year for players who are already running a good profit, turning recreational break even players into profitable players is something that isn't easy to do, and as such, this book should be very popular. Adams talks about it more detail via his interview page at D & B Publishing, who again have produced another excellent poker book that should appeal to the masses.
Bitesize poker advice that doesn't take up too much of your time per day but will make you a better player is a great idea and always will be. Picking up Winning Poker in 30 Minutes a Day might be a good decision you make this year and Adams book is one we could really see the merit in buying if you're a player looking to beat entry level opponents.