On January 15, it was announced the Congressional Gaming Caucus has risen from the ashes as Representatives Bennie Thompson and Guy Reschenthaler have launched the caucus again. This bipartisan group will represent the interests of the gambling industry with the U.S. Congress.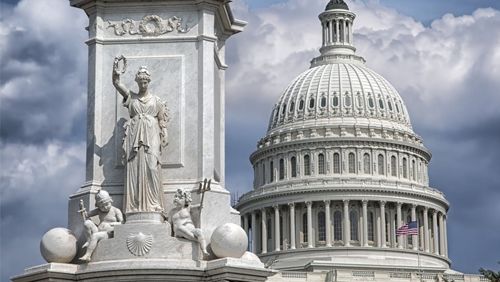 The group consists of 30 members of Congress, with 19 Democrats and 11 Republicans. Also included are three of the four members of the House of Representatives from Nevada: Rep. Mark Amodei, a Republican and Democrats Steven Horsford, and Dina Titus.
Rep. Reschenthaler explained that the caucus was never really "dead," but more in a state of limbo. "The Congressional Gaming Caucus wasn't officially broken up, but it was dormant during the last Congress."
The Representative added that "Over the last several decades, the U.S. gaming industry has expanded beyond traditional gaming markets in Nevada and New Jersey to benefit new communities, including those in southwestern Pennsylvania. I'm proud to relaunch this caucus, which will provide a valuable forum for advancing policies that allow the gaming industry to grow and spur economic development in districts like mine."
What makes this caucus rather unique is its diversity. Besides it's bipartisan makeup, there are members from several states, including New Jersey, California, and Mississippi.
The caucus will help to promote issues related to the casino industry and will also educate other members of the Congress on these issues. The hope is that they can create more uniform guidelines that can help to expedite the development of these operations while also protecting consumers and local communities.
To many insiders, this demonstrates the economic impact that these types of operations bring, not only in the form of taxes but in jobs as well. Gambling has also become an important cultural part of American society, which was noted by Rep. Thompson, who referred to gambling as an acceptable "form of entertainment."
In a press release, the American Gaming Association welcomed the return of the caucus. "Relaunching the Congressional Gaming Caucus is one of the American Gaming Association's top priorities, and I'm grateful to Reps. Thompson and Reschenthaler for their leadership," Bill Miller, president, and CEO of the organization, stated in the release. "As gaming expands, it's more important than ever that members of Congress from both gaming and non-gaming states appreciate the important role our industry plays in communities across the country. The AGA looks forward to working with the caucus on policies that strengthen the gaming industry and tell our positive story on Capitol Hill."