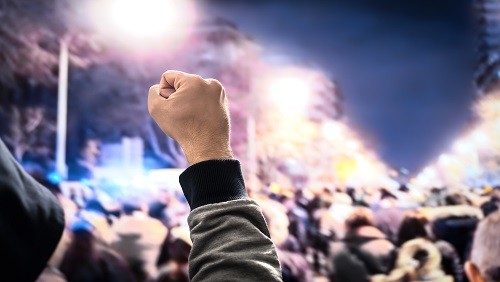 Thousands of workers going on strike is never a good look, and how a company responds to it can say a lot. With 3000 employees on strike at NagaWorld, NagaCorp has decided the best course of action is to describe their action as illegal.
In their January 10 filing with shareholders, the operator has decided to downplay the effects of the strike as much as possible. While media reports indicated that as many as 3,000 employees joined the strike, NagaCorp "observed that approximately 500-700 employees participated in an illegal gathering." Comparing this against their total workforce of 8,200 employees, they added:
"All business operations of the Group remain normal and the Board expects that the above matter has had no negative impact on the business operations of the Group."
The filing provides a full history of negotiations between NagaCorp and the NagaWorld Union, the representative body of the employees. It lays out the demands of the employees, including increases in pay and benefits, as well as a timeline of recent negotiations.
The failure of negotiations seem to center around Chhim Sithar's suspension on September 20, 2019. She was suspended for distributing t-shirts that demanded a living wage.
As she has not been re-instated, NagaWorld Union has walked out of several negotiations. This has slowly escalated to the strike that occurred on January 9, as talks simply haven't progressed.
Rather than give any group, NagaCorp points to their current compensation plan as highly competitive. "The Group believes that the salary is one of the best and if not the highest in Cambodia," they write. For example, besides giving cash bonus and other fringe benefits, we have recently implemented a language incentive program, unlimited meals, and NagaMart which enables all employees enjoy savings on household goods."
So rather than give any ground on putting Sithar back on the job, or giving employees the pay they feel they deserve, NagaCorp is using the Cambodian courts to declare the strike illegal. They note:
"On 8 January 2020, upon legal advice obtained from HML Law Group & Consultants, the Group obtained a court injunction from the Phnom Penh Municipal Court, which ruled that the planned employees' strike on 9 January 2020 shall be considered as an illegal strike and the employees who participate in the illegal strike will be considered as committing a grave offence."
This might all be well and good with the Cambodian government and shareholders; NagaWorld simply makes everyone too much money for them to take the employees side. But this shortsighted penny-pinching won't be a long term strategy for growth. As Sudhir Kalé noted at the recent G2E Asia @ The Philippines conference, unhappy employees make for bad customer experiences. While NagaCorp holds a monopoly over Phnom Penh for the moment, this may not be a huge concern. But it will certainly lag behind its international competitors as others start to treat their employees better.