On the face of it, Chris Moorman winning 888poker's £2,000-entry High Roller in Aspers Casino in London has an air of regularity. He's one of the poker brands highest-profile players, if not the highest. He's a fearsome live tournament player with almost $6 million in tournament winnings at the felt, with another $12 million at the online stuff.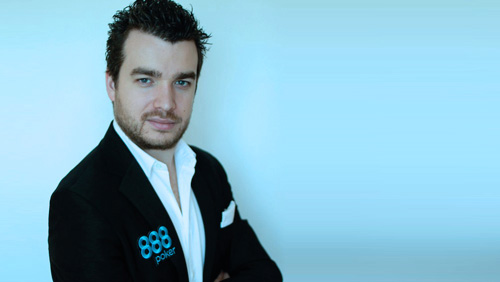 The man is a living poker legend.
But where Moorman goes further than most is his dedication to the game, and it's that endeavour that in the cold light of day deserves higher praise than simply recounting his latest trophy, or victory.
Back in 2016, this reporter watched Igor Kurganov turn down an afternoon on the town in West London to pitch up at a £1,000-entry at the popular partypoker Grand Prix tour. Once in the event, to say Kurganov ran over the field would be an understatement. He made seasoned regulars look like rank amateurs and turned enthusiastic professionals into jabbering wrecks.
Kurganov not only played all day, he played the event until the place closed at 1:00 am, brokered a deal that gave spare money to charity, then even with nothing on the line, still played his A+ game to bully his way to victory.
There wasn't even a trophy awarded for that win, but he desired it more than anyone.
Recently, we told you about Chris Moneymaker making the final table in his 'Road to PSPC' event in Dublin, Ireland. At another event in Killarney in the Emerald Isle, this reporter saw Dara O'Kearney put in a phenomenal multi-tabling display of poker that saw the popular pro literally dash between tables, using all of his ultra-running skills to persevere to two final tables at the same time in live MTTS.
There's a part of true winners' brains that doesn't so much drive them on to victory as much as it compels them to be unable to give anything other than their best. If either of those three men had failed in their efforts to win big, or in Moneymaker and O'Kearney's cases, run extremely deep, there would have been no sour grapes.
The top professionals know the way the game works and the buy-in wouldn't scratch the surface of their bankrolls. Hell, Moorman's £27,000 top prize at the weekend may well have only covered the lunch tab if he took his British poker pals out for lunch.
Being keyed up for poker is the enthusiasm of the hopeful. Being focused for a final table is the prerequisite of the hungry. But being tuned to playing your A-Game no matter what is something that you're born with. It's a competitive instinct blended with an insatiable desire to do your very best whenever you show up.
As Stephen King once wrote, talent is as cheap as table salt. But combine that talent with hard work, dedication and discipline, and all the ingredients are present to complete the recipe for success.
With Moorman's latest high roller victory coming in the 39-entry £2,200 High Roller as part of the 888Live London festival, Moorman took it down against Ben Winsor heads-up, another extremely dedicated British player. For Moorman, it was another heads-up in an event put on by the brand he represents, with a Portugal showdown two months ago seeing his finish as runner-up to Miguel Lopes. That time, he may have missed out, but he battled heads-up for six hours against a partisan final table in Portugal.
Moorman, like the very best, simply doesn't know how to give up.
Closing out the victory in East London and earning his latest trophy, Moorman was delighted, and couldn't wait to share the news. It's what winners live for.
https://twitter.com/Moorman1/status/1200225271510646784
£2,200 888Live London High Roller final table results:
| | | |
| --- | --- | --- |
| Place | Player | Prize |
| 1 | Chris Moorman | £27,000 |
| 2 | Benjamin Winsor | £17,000 |
| 3 | Nicholas Lee | £12,000 |
| 4 | Antoine Saout | £9,000 |
| 5 | Damian Bell | £7,000 |
| 6 | Raul Martinez | £5,220 |