This is a guest contribution by Bruno Berlafa. If you would like to submit a contribution please contact Bill Beatty for submission details. Thank you. 
1.1 The background of the Swedish Gambling Act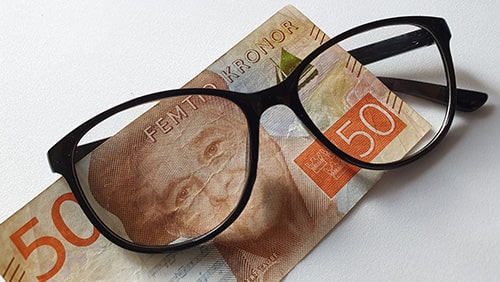 It has been almost a year since the new Swedish Gaming Act came into force. And what a force it has been! What was once considered to be one of the prime online gambling markets in the world has turned into a more competitive market than ever before. It might turn out for the best, but for now, the situation has worsened whether you ask operators, affiliates or even game developers.
Over 200 gambling brands targeting casino and betting are not only facing each other but also market shares with the state-owned giant Svenska Spel and ATG. All while being monitored by big brother in the shape of the Gaming Inspection (Spelinspektionen) and Konsumentverket, the government authorities whose mission is: "To ensure that lotteries, casino games, and other gaming activities in Sweden are carried out legally, safely and reliably".
While aiming to fulfill safer gambling environment, the Swedish state is also collecting generous money streams from the 18% tax of the gross gambling revenue from license holders. The licensed companies had a total turnover of SEK. 3.484 billion during Q3 only this year, according to figures from the Swedish Tax Agency (Skatteverket) and the Gaming Inspector's preliminary figures. Not too shabby of an income, one must say.
Meanwhile, listed gaming companies, such as Kindred, Leo Vegas, and Betsson have all seen their share prices take a negative hit. The same negative trend has also applied to everything from affiliates, such as Raketech and Catena Media to gaming providers as NetEnt.
Speaking of hits, we have Ninja Casino, the former major I-gaming rocket that took all by surprise and gained enormous market shares until it was forced to shut down.
This leads us to look more into the actual framework of rules and guidelines that the Gaming Inspection has set in stone. What are the real effects so far for both gambling companies, but also the end consumers?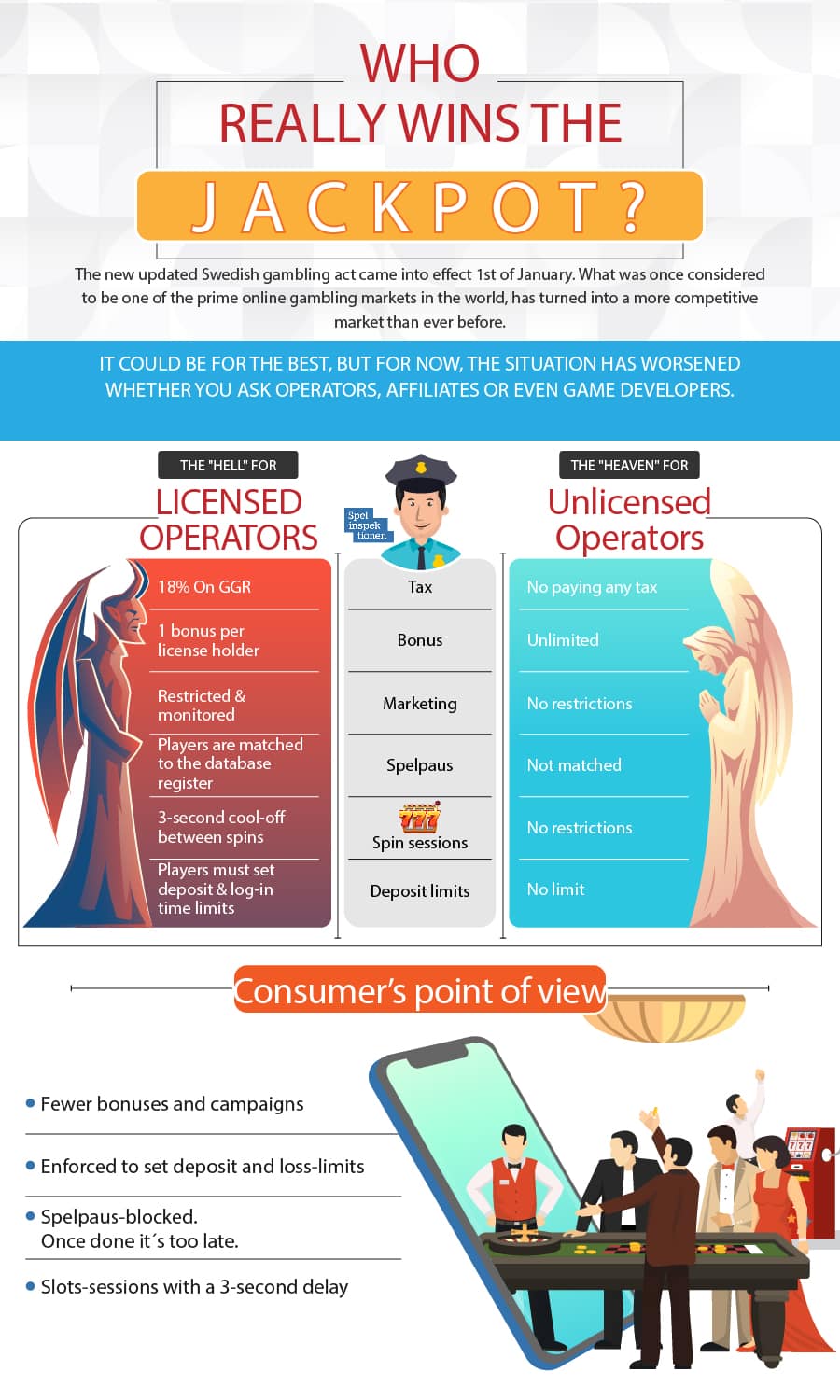 1.2 Take responsibility or face the consequences
We already mentioned that one of the main goals with the new gambling act was to have a more safe, reliable and legal playground. A playground that, however, many operators and people from the industry have claimed to be vague at best with the rules and the general direction in how the marketing should be performed.
In February, the main civil minister in charge of the new gambling act, Ardalan Shekarabi, told the gambling companies "take responsibility or face the consequences". As a result, a more moderate and subtle form of marketing was requested with a less aggressive tone.
On the other side of the coin, we have gambling companies pushing endlessly to find the balance between getting more customers, but also finding a way around to interpret whatever "subtle" marketing means.
Ninja Casino misinterpreted it, and during the course of this year, several more operations have been fined; fines that would even make UKGC jealous.
1.3 The current landscape from an operator's point of view
Let's just face it. The reality for the many licensed online operators within casinos and betting is harsh and risky and bound at this stage to create a market where many of the 200 brands will have to pull out in the future to come. The cold hard math equation is affected by some of these variables:
• 18% tax on GGR
• Players must set deposit limits by day, week, month and limit their log-in time; self-assessment tests should also be available.
• Limited opportunities to distribute bonuses (only 1 bonus per license holder)
• Spelpaus (The national self-suspension register)
• Significant marketing restrictions
• No VIP-treatment or any kind of "up-sell" is allowed (bye to a big chunk of the few % VIP-players that previously made the real difference)
• An individual spin on a slot machine must now have a 3 second cool-off rather than 0 cool-off between spins. (a significant decrease of turnover from an operator point of view)
Try to run a brand new operation under those conditions. The days of a weekly launched brand on the Swedish market are therefore long gone.
The players might have a safer environment now, but the margins from an operator point of view have decreased significantly. The lack of loyalty disappeared significantly once players only one bonus is allowed per operating license. So let's take a look at how things have changed from a player's point of view.
1.4 Bye bye bonus, hello joy killers
From a safety point of view, Spelpaus has been a blessing to all those gamblers who can't fight their inner demons. Many of them, with such strong gambling addictions that it directly poses a danger to them and their immediate family. Countless stories of abuses crashed economies and marriages and even a greater likelihood of committing suicide.
Now, within less than one minute, they can turn themselves off from all online gambling sites and be protected from gambling advertising from 1 month until further notice. Once done, there is no turning back. At least not if you want to play on a licensed option.
Any joy to win with 3 seconds between every spin?
For those slots junkies out there the new sets of rules that enforces all slots makers to make sure that each spin must take at least 3 seconds the actual enjoyment has gone down significantly. A move that was made in order to create a more safe environment, but the question remains. How much left of the excitement and enjoyment of the core product?
For those players who are actively looking for some type of deposit bonus, their freedom of choice is much more limited. The days of countless offers and promotions are over. In addition, significantly fewer online casinos and betting sites are released. Where should that vast crowd of players that enjoys regular bonuses and slot sessions with interruptions do now? The answer can be found on the web.
1.5 Where Wild West still applies
Here comes the interesting part. Imagine if you were Spelinspektionen. All the preparation and time spent in order to create a more safe framework "where gaming activities in Sweden are carried out legally, safely and reliably".
This new bill has a clause stating that licensed operators are required to protect players from excessive gambling activities by adding restrictions and self-help options to their site. Let's see how safe things really are.
Here comes the bombs in plural. As can be seen on figure 1, the search volume for casino utan licens (casino without a license) has increased enormously (all search volumes presented are estimations taken from Accuranker.com).
From the beginning of the year roughly 500 searches/month were made, but latest data from August shows an estimation of 6600 searches/month. To put it in a wider context, the term "online casino" had 14 800 searches/month during the same period. That places the keyword "casino utan licens" to be one of the biggest searches gambling keywords on the Swedish market if you exclude brand searches.
The very same trend can be shown if you dig into the betting vertical. As figure 2 shows below, there is a clear upward trend on the searches for "bettingsidor utan svensk licens" (betting sites without Swedish license).
Significantly fewer searches compared to the casino vertical, but still around 590 searches/month during September, which can be comparable to the more generic term "bettingsidor" that brought in around 1600 searches/month.
According to Spelinspektionen the estimation is that roughly 91% of Swedish players are playing on a licensed alternative. Are those lies, damn lies or skewed statistics?
Regardless of what the real number is, the fact remains: There is a whole market of unlicensed options targeting Swedish players. Meanwhile, licensed operators will have to watch while their margins shrink. Most importantly, players are not in any way safer than they were before.
1.6 Is there a final countdown?
Almost one year has passed and no measures have been taken to prevent unlicensed operators from targeting Swedish users. The consumers are free to use their service since it's not penalized. Looking at the three main factors  why consumers are favouring these options, the following points are the most vital:
1. Self-excluded from Spelpaus for a longer time then they "planned" and are now eager to play and look for options where they are allowed to play. The only options are the unlicensed not connected to Spelpaus.
2. A lack of bonuses and campaigns
3. They want to play slots without the 3 second delay between every spin
There is a loophole that has been been there since the new gambling act came into place. An extremely profitable one if you consider the fact that the audience consists of players blocked by Spelpaus, who may also happen to be the more bonus driven players.
One of the most recognized operators to have targeted these types of players has been ComeOn. With their MGA licensed brands such as Mobilebet, Getlucky and Folkeautomaten they had an active agenda to target these high value users despite it being illegal, unethical and pretty much wrong in every possible way.
A rather surprise considering that they have several of their brands such as Snabbare, Hajper and Comeon with their very own valid Swedish license. So here we have a company that covered the full spectrum of users all while Spelinspektionen are supposedly monitoring from their end.
Other operators that have gone down the same road to target Swedish customers without a valid Swedish license consists of a various mix of MGA and Curacáo license holders. All of them are catering for the increasing demand for other options that the legal ones can't offer to the Swedish consumers.
So what is being done to stop these gambling companies to get more market shares? Nothing. There is no geo-blocking in place. Their payment solutions work. Same applies for the games that are being offered.
All taking place while licensed operators are dealing with limited opportunities to distribute bonuses, marketing restrictions, higher taxes and Spelpaus blocks. There are deep holes to be filled before Spelinspektionen can claim that they created a legal, safe and reliable market for all stakeholders that are affected. " If you make 10.000 regulations you destroy all respect for the law". The wise words put by Churchill could very well be placed in this context.
Bruno Berlafa has been in the I-gaming space for over 6 six years now. He started his journey at BetIt that was later sold to Gaming Innovation Group. There he was head of affiliates before changing his path to once again help a small startup become an I-gaming giant with Dreamz.com Besides that he is the co-founder of the digital agency Perfecto Digital SL that are among many things working as affiliates with the site bästabettingsidorna.se .