In the third quarter of this year, Las Vegas Sands (LVS), the casino giant run by Sheldon Adelson, didn't have the success it had hoped. Its revenue declined by 3.6%, in spite of the fact that Las Vegas saw record revenue in the last month of the quarter, and net income dropped 6.6%. While the company may not be excelling at home, it's doing really well overseas and this performance is expected to drive its success for at least another five years, if analysts with Bernstein are correct.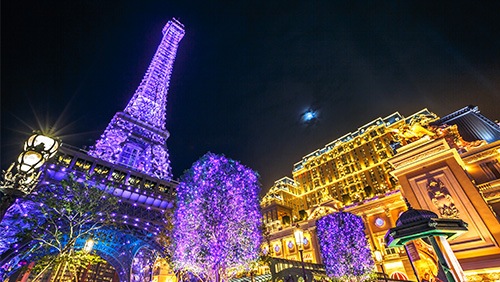 The brokerage released a statement yesterday on the health of the company, pointing out that the massive size of LVS in Macau and Singapore are going to push it forward. Vitaly Umansky, Eunice Lee and Kelsey Zhu, Bernstein analysts who routinely report on LVS and other casino companies, assert that LVS is "principally an Asian gaming company" now since 90% of its profits come out of Asian. They added:
"In Macau, Sands controls approximately one-third of the hotel room inventory. With Macau gaming being a supply-driven (and hotel room supply constrained) market, Sands has developed a strong foothold in the mass market segment.
"In the past, while Sands China has had quantity in rooms, it has fallen short of having competitively high-quality rooms and high-end suites (compared to some other operators).
"However, Sands is now not only adding capacity, but also redeveloping/upscaling its properties. When the redevelopment is complete, Sands will stand to benefit from the expected growth in premium mass gaming segment in Macau."
Sands China, the LVS subsidiary that oversees its Asian operations, is involved in several plans to push its activity in the region even higher. In Macau, the Sands Cotai Central is being converted into The Londoner Macao and will offer 600 suites created from the existing 1,200 hotel rooms. There will also be two all-suite hotels added, including London Tower Suites with its 370 and Grand Suites at Four Seasons, which will offer 2,909.
In Singapore, through an agreement to maintain a duopoly with Genting Singapore, a total investment of $3.3 billion is coming between the two entities. That money will be used to renovate and expand the companies' operations in the country.
The Bernstein analysts add, "While Sands will see virtually no increase in net rooms, the redevelopment of Sands Cotai Central and the opening of the Four Seasons Tower Suites will significantly increase Sands' product offering to better appeal to premium customers."
Given its strength in Asia, LVS has always been seen as a strong contender for an integrated resort license in Japan. However, the company has now expressed concerns that the price – a minimum of $10 billion – might be too much for it to swallow. The company's president and chief operating officer, Rob Goldstein, told reporters about a week ago, "No matter how good you are at this business, that must give you pause to stop and think, 'Is that prudent? Can you really deploy, can you get the return?'"