GameCo Begins Trial with Nothin' But Net 2 and All-Star Hoops at Casinos in Las Vegas and Reno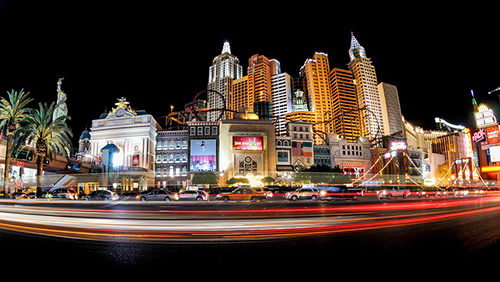 LAS VEGAS, NV – October 10, 2019 – GameCo LLC, creator of the world's first Video Game Gambling Machine (VGM™), today announced it has entered the technical field trial period at casinos in Nevada. GameCo's VGM machines are now available for casino patrons to play at Caesars Entertainment's The LINQ Hotel + Experience, MGM Grand, and Park MGM in Las Vegas and Atlantis Casino Resort Spa in Reno.
GameCo is launching two of its flagship sports titles – Nothin' But Net 2 and All-Star Hoops – at the casinos for the length of the field trial program. Nothin' But Net 2 challenges players to score baskets based upon their skill and get a free spin on the Progressive Jackpot wheel, delivering a similar pace of play to slot machines while attracting a new and younger demographic. Additional features such as a "Free Tutorial" help onboard new players and a unique in-game Token Economy further drive engagement and increase session time. All-Star Hoops is an easy-to-play and highly engaging pick-3 sports game. The game lets players choose one of three basketballs for a chance to win cash, Tokens, or access to a Mini-Game or Bonus Round, where they can use Tokens to instantly collect rewards.
"We're thrilled to introduce our Video Game Gambling Machines to the Las Vegas and Reno markets at some of the greatest casino properties in the world," said Blaine Graboyes, Co-Founder and CEO of GameCo. "Entering our technical field trial in Nevada is a significant milestone for us that demonstrates how a startup such as GameCo is able to navigate the regulatory process and partner with casinos to advance an entirely new category of gambling products catering to the next generation of casino players."
Additional GameCo VGM™ titles expected to release in Nevada following the field trial's successful conclusion include: Steve Aoki's Neon Dream, a fast-paced, hypnotic rhythm runner game developed with DJ and producer Steve Aoki, and Mystery of the Secret Temple, the newest "Match 3' game with increased betting velocity and player engagement in which players explore an ancient Egyptian pyramid to uncover treasures and unlock the secrets buried inside.
In March 2019, GameCo received its jurisdictional manufacturer and distributor license from the Nevada Gaming Commission to operate within Nevada. GameCo aims to expedite its technical field trial period, working towards a streamlined approval process and wider availability within the Nevada markets.
The Nevada field trial comes after successful expansion and installation in several other key markets such as California, Oklahoma, and Mississippi.
To learn more about GameCo's products, visit http://www.gamecollc.com.
About GameCo
GameCo LLC is the foremost innovator and trailblazer in creating the hottest new category of casino gambling products: Video Game Gambling. The inventor of the world's first Video Game Gambling Machine (VGM™), GameCo's products and platforms combine the fun and interactivity of video games with the thrill and anticipation of gambling. The company's VGM™ platform allows a player's skill to impact the payout and winnings while maintaining the same casino economics as slot machines – combining skill and chance in an entirely new way. The first video game platform approved by any gambling regulator in the United States, GameCo's VGM™ allows game developers to distribute video games into the licensed casino market, while enabling casino owners a compelling new method to attract a new audience to casino floors. The company currently offers an array of casual, sports, and core game genres in both single player and multiplayer gambling formats, as well as esports-style tournaments. GameCo is developing VGM games under license from major game developers and entertainment IP companies, including Paramount's "Mission Impossible", Steve Aoki from DJ Kid Millionaire LTD., "SOULCALIBUR™II" with BANDAI NAMCO Entertainment Inc., Star Trek with CBS Consumer Products, Inc., and "Terminator 2: Judgment Day" from Studiocanal S.A.S.
GameCo LLC is privately held and headquartered in Las Vegas with additional offices in New York City. GameCo is currently licensed to operate in more than twenty gaming jurisdictions, including Nevada. For the latest GameCo news, please visit http://Gamecollc.com or follow the company on Twitter at twitter.com/GameCoLLC.