· Leading platform provider amongst the finalists in the Standalone Platform Provider of the Year, and the White Label Supplier of the Year categories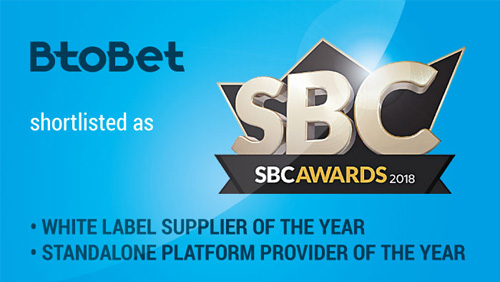 BtoBet is proud to be shortlisted for the prestigious SBC Awards. With the Awards recognizing and rewarding expertise and innovation in the betting and gaming industries, BtoBet has been included amongst the finalists in two of the most competitive and sought after categories: the Standalone Platform Provider of the Year, and the White Label Supplier of the Year.
BtoBet CMO Sabrina Soldà stated that being recognized amongst the leading iGaming platform providers and White Label suppliers speaks a thousand words for itself regarding the very advanced technology at the core of the Neuron platforms. "BtoBet's main aim has been clear since the company's inception; to be the leading platform provider in the iGaming industry, providing operators with cutting edge technological solutions to enable them to stand out from the competition and deliver an unparalleled user experience that puts the players themselves at the heart of the whole betting experience. All this whilst ensuring true brand differentiation which is an essential aspect for the operators in such a highly competitive scenario."
Soldà further stated that such recognitions motivate the whole BtoBet team to keep on pushing and further develop the Neuron platforms, introducing on a regular basis new and unique features that make a difference in the betting scene. Now in its sixth year of rewarding and celebrating the very best in sports betting, the awards recognize the achievements of operators and affiliates, as well as suppliers from across all the major disciplines including payments, marketing, platform providers and data.
BtoBet looks forward for the award ceremony that will take place on the 3rd December in the magical atmosphere of Battersea Evolution, in London.
About BtoBet.
BtoBet is a multinational company and is part of a group with 20 years of experience in software development in IT, telecommunication, e-commerce and banking, strongly committed to technology and widely investing in technology research and development. The experience gained at the forefront in these advanced environments, compared with the more recent gambling industry, allows BtoBet to be visionary with a deep understanding of the requirements of the market, catching changing trends and anticipating bookmakers' and operators' needs. BtoBet is a true partner in technology, offering a standalone platform and services for the iGaming and Sports Betting industry. It counts on a very talented, continuously trained development team and day to day management support to clients. BtoBet allows licensees to be unique in the market, by giving them the opportunity to completely personalise their offers for Sports betting and iGaming business, online mobile and retail. Visit our site on: www.btobet.com