This is a guest contribution by Harry Christodoulou. If you would like to submit a contribution please contact Bill Beatty for submission details. Thank you.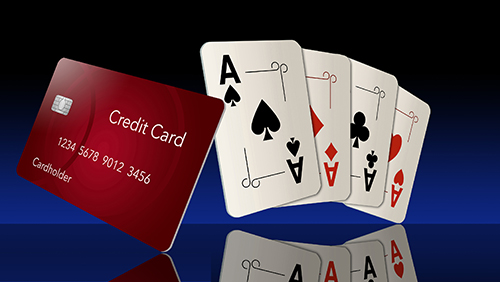 Harry Christodoulou, founder of BingoFind.com, has been hard at work interviewing iGB affiliates and shares their thoughts on the recent credit card and PayPal restrictions within the gambling industry.
If you're keeping up with the changes in regulation in the United Kingdom, you are probably aware that the U.K. Gambling Commission (UKGC) is not playing around. Now, the regulator is determined to strengthen the rules and impose as many restrictions as necessary with the aim of making gambling in the U.K. safer and fairer.
In July, the UKGC announced the start of the 12-week consultation on the use of credit card for gambling purposes that actually begun in mid-August. Explaining the pros and cons of gambling online with credit cards, the Commission stated that there would be possible restrictions and that a complete ban was not off the table. Will those restrictions affect the industry and how?
And whilst we're waiting for the final decision by the U.K. Gambling Commission, new related news came from Germany. PayPal shut down its services for German players, so could this mean that it could shut them down for U.K. players, too? Will other e-wallets follow suit? If so, how will the industry handle this? We talked to three affiliate managers to tell us their thoughts on the subject.
The situation with credit card gambling in the UK
The truth is, when news first surfaced about the possible restrictions or even worse, a complete ban, many were convinced that the industry would freak out. But surprisingly, Greg Gomez, the Affiliate Director at Maxi Affiliates, shares that the impact will not be as severe as we would've imagined, since players were mostly using e-wallets or debit cards for gambling online, rather than credit cards.
Gomez explains that most U.K. players are aware of the fees implemented by U.K. banks, so to avoid them, they more often than not opt for alternative methods. Nevertheless, Gomez says that they are still informing and educating their players regarding the alternatives.
Teodor Spiridonovski, the Senior Affiliate Executive at Tau Affiliates, shares the same opinion, emphasizing the fact that Tau Gaming has always been in line with the UKGC's rules and expectations. Spiridonovski says that the credit card restrictions will not leave consequences to their operations, since they have multiple payment methods across their brands, so players will still have an array of payment methods to choose from.
But Ran Shalom disagrees. The Head of Affiliates at United Commissions honestly admits that the restrictions will affect them, as they will most, if not all other companies. There will be possible problems with new player flows, conversion rates and other things. Bur since United Commissions operated under the UKGC license, they will comply with all the requirements as they always did.
The PayPal restriction
While the U.K. has nothing to do with German players in terms of regulation, it is no secret that companies follow suit and if PayPal has shut their services to German players, is it possible that other e-wallets would do the same? How would that affect the industry?
Shalom says that they're offering PayPal as a payment option, but he shares that the markets they operate in are usually following trends so he won't be surprised if more e-Wallets followed suit. But the industry is prepared for it. As Spiridonovski says, they are expecting it, and they are even looking at adding other alternative payment options to their offerings. Gomez, on the other hand, says that while other e-wallets will most certainly do the same, they will probably do that for German players only. He explains that Maxi Affiliates will continue to promote PayPal, as it is both convenient and secure for them and the players equally. He adds that the U.K. is currently one of the most regulated markets in the world, while Germany has yet to catch up with the online gambling regulation. Perhaps, he says, that's why PayPal have withdrawn their services to German players, and that's why he doesn't see any restrictions to this e-Wallet happening for U.K. players.
Are these restrictions good for the industry actually?
Different markets and different companies react differently to changes. As Spiridonovski puts it, there will be those who will think of the restrictions as positive and those who will consider them negative. But as he sees it, restrictions are there for a reason, and even though for some new companies it will be easier to adapt and for older a little bit more difficult, Tau Affiliates has been in the industry for quite some time and will continue adapting to the changes.
On that note, Gomez, as a veteran in the industry, strongly agrees with restrictions and tough regulation. He remembers when the industry was like the Wild West, with many cowboys that existed back in the days. Regulations have brought stability and security for players, he reflects, and even though no one likes regulation and extra taxation, watchdogs make sure that no more cowboys exist today. Gone are the days, he says, where a player who deposited and won money was denied cashouts either for some bogus reason or because the site has closed down. Gomez stresses that that sort of thing does no one any good. The industry exists because of the players, and they should be treated with fairness and respect. He mentions how great the verification procedures for online players are in the U.K., where players need to identify themselves prior to being able to deposit, contrary to walking into a land-based bookie with cash and placing bets without verifying their identity and age.
Shalom admits that even though restrictions may hurt them in some ways, regulations are good for the industry because no one wants to risk underage or people with gambling problems. He ends his statement saying that the regulations will have positive effects on those companies that comply with them.
About the author:
Harry Christodoulou is an experienced affiliate who founded BingoFind.com over a decade ago. The website is considered as one of the oldest resources that helps players choose the best bingo sites through extensive reviews. In recent times, they have include a casino and slot reviews section so they can enhance the overall experience of their readers.