On September 20, Nevada's Area 51 was going to be inundated with alien-seekers who wanted to know the truth about ET and UFOs. A Facebook event had been organized that would see a massive crowd gather and try to take over the facility, but many didn't believe it would ever take place. Oddsmakers, such as Bovada, provided bets on whether or not it would happen, with a stronger position against it than for it. It turns out the oddsmakers were right. Instead of an assault on Area 51, the gathering is now going to be a music festival.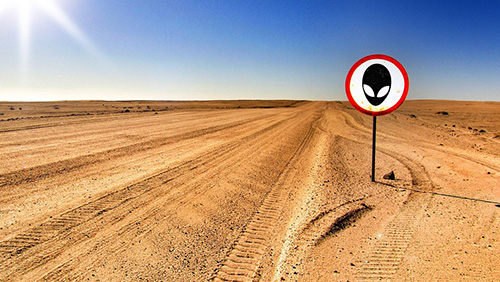 Over three million people ultimately signed up to participate in the Storm Area 51 event. However, the organizers have revealed that plans have changed and that they will now hold a music festival at the Little A'Le'Inn motel in Rachel, Nevada. The group apparently backed down after the Air Force published a statement that read, "The Nevada Test and Training Range is an area where the Air Force tests and trains combat aircraft. Any attempt to illegally access military installations or military training areas is dangerous."
Bovada expected things to fall apart, giving odds of the event not taking place at -350. The oddsmaker wasn't really taking the wager seriously, instead giving a way to enjoy a little fun around the idea of a raid on the highly-secure military compound. Since the organizers announced the event's conversion to a music festival, Bovada has taken the line down and is going to pay winners accordingly next month.
Matty Roberts, one of the individuals behind the raid, was given special attention by the FBI after announcing the Storm event. He was reportedly paid a visit by the FBI and states, "I was kind of scared, but they were super cool and wanted to make sure that I wasn't an actual terrorist making pipe bombs in the living room." Apparently, the FBI determined he wasn't a terrorist.
Bovada had also put up odds on whether or not President Trump would address the Storm on Twitter, giving odds of -510 that he wouldn't. It was correct, since Trump hasn't even brought it up once.
Another just-for-fun bet was created for how many people might attend the event. Bovada put odds of -250 at more than 1.51 million and, according to the responses on the Facebook event page, over two million said they would be there. Another 1.5 million had shown interest, which means that they may or may not have planned on attending.