What started as a very silly internet meme about discovering the truth of Area 51 has become a phenomena. The Facebook event, "Storm Area 51, They Can't Stop All of Us," is scheduled to take place September 20, and while the world anxiously awaits to find out if anyone is dumb enough to storm an American military base, Bovada has odds for us on how it will all go down.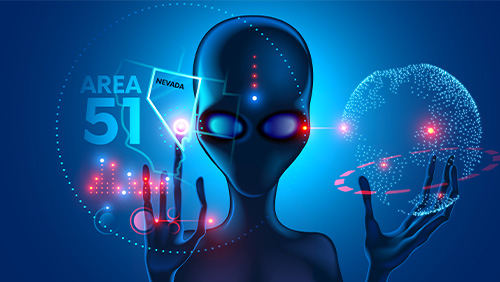 If you haven't heard about this craze yet, the premise is pretty simple. Area 51, the secret U.S. military base where many believe evidence of extraterrestrial life is kept, has been scheduled to be stormed by the internet in September. As of press time, 1.2 million Facebook users have indicated that they will participate in the raid with an additional 1 million interested in going.
The event was created as a joke, and early joiners to the cause treated it as such. Jackson Barnes drew up an elaborate battle plan to ensure victory. Kyles, best defined as teenagers from a broken marriages who enjoy energy drinks and punching drywall, will form the vanguard, as its believed they can take the most punishment from the base's defenses. Rock throwers will hurl pebbles at any soldiers they encounter, in an attack that is believed to be non-threatening but just annoying enough. Finally, Naruto runners, believed to be faster than bullets, will storm the flanks, overwhelming the final resistance encountered.
While this is all fun and great for memes, a report by the New York Times (NYT) indicates that there is an increased interest in visiting the Area 51 surrounding area on the September 20 date of the raid.
With all that being said, Bovada still has no raid happening (-350) as the favorite here, but with action taking place if only 100 people or more raid the base, I would put some money on a raid happening (+225). Only 0.1% of the confirmed raiders have to show up, and with the NYT piece indicating increased interest, I believe it's going to happen.
Oddsshark also has additional odds, care of BetOnline, which are worth looking at as well. Odds favor that Donald Trump will not tweet a warning to not raid the base (-510); but we are talking about the man who tweeted "covfefe," so again, might be worth a bet that he will (+305). There's also odds on how many people will confirm on Facebook that they're going. While the under 1.51 million would currently win (+170), this meme could get much hotter as September 20 draws nearer, so take a kick at the over (-250).