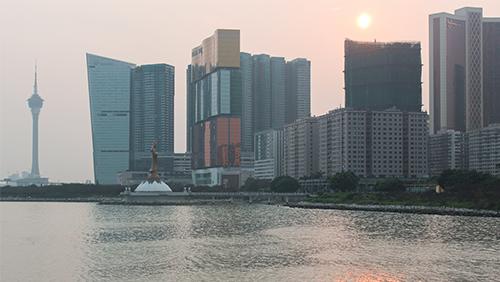 MGM Cotai may not be performing as well as many had hoped, but this isn't bringing down the Macau casino's operator, MGM China. JPMorgan Securities (Asia Pacific) analysts call the venue's performance "lackluster" in a note from Monday and add that the stock price for MGM China has become more accessible for investors. This has, in essence, made the weak performance at MGM Cotai "almost irrelevant."
JPMorgan analysts DS Kim, Jeremy An and Christine Wang said in their note, which discussed the upcoming quarterly forecasts for Macau casinos, "At this price—9x EBITDA and 10 percent free cash flow yield on 2020—we think it's almost irrelevant how disappointing the ramp-up is." Ignore the negative and focus on the positive.
Talking about the quarterly forecast for Macau's gambling scene as a whole, the analysts stated, "We keep our GGR forecast unchanged at -1 percent for 2019." They further reiterated that implied VIP gross gaming revenue (GGR) was around -13% and that mass gaming GGR was hovering at 12% for the year, but added, "We err on the side of caution amid an uncertain [macroeconomic] backdrop."
The analysts also stress that their forecast is most likely on the low end of what will actually be seen. They said, "There's a good likelihood our numbers will prove bit too conservative (especially if VIP continues to recover from here), which in turn would allow us to happily upgrade the numbers along the way."
In discussing other casino operators in Macau, JPMorgan believes that investments in Melco International could be a better option than Melco Resorts and Entertainment. They explained, "For investors who don't trade United States-listed stocks, we view Melco International (a holding company that owns 55.8 percent of Melco Resorts, based on a pro-forma reflecting Cyprus transaction) as providing "cheaper access" to Melco Resorts," adding that Melco International's stake in Melco Resorts is "currently worth US$6.2 billion which is already 40 percent higher than its own enterprise value (or, 60% higher than its own market cap)."
In general, all of Macau's operators were shown some support by the analysts. Galaxy Entertainment, Wynn Macau and Sands China were all given clean bills of health as investment opportunities. SJM Holdings, which is building the Grand Lisboa Palace in Cotai, is seen as a strong contender, but that it only has "potential upside" of as much as 14% compared to the 20% for some of the other options.
Comments