3: Barrels from the world's largest online poker room including confirmation of European Poker Tour Prague in December, the beginning of MicroMillions 15, and a new YouTube Channel for the nerds created by Liv Boeree.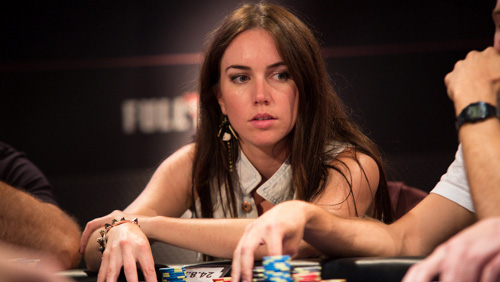 Four years ago, on a night of stalactite snot, Hossein Ensan held onto his chips longer than his 1,043 competitors, handcuffing himself to the PokerStars' European Poker Tour (EPT) Main Event trophy. That was Prague, and by the time you've read this, Ensan would have won the most significant sum of money in his life as he starts the World Series of Poker (WSOP) Main Event Final Table with the chip lead, having already locked up $1m.
If you want to follow in the same ski tracks as the German warrior, then you're in luck. Christmas wouldn't be the same without a visit to Prague, and the PokerStars EPT returns in December. We don't have much to go on—clues are as scant as a Luc Besson assassination flick—but here's what we know.
Prague's Hilton Hotel plays host Dec 6-17, and here are the key dates:
• December 7-11: €1,100 EPT National
• December 9-10: €330 EPT Cup
• December 10-11: €2,200 EPT National High Roller
• December 11-17: €5,300 EPT Main Event
• December 15-17: €10,300 EPT High Roller
Last year, Boris Mondrus conquered a 2,486-entrant field to win the €382,750 first prize in the €1,100 EPT National. Sergei Bagirov vanquished 1,417 foes in the €330 EPT Cup For €73,050. Yaniv Peretz defeated 954 entrants to win the €340,700 first prize in the €2,200 EPT National High Roller. Paul Michaelis strangled the life out of the 1,174-entrant field in the €5,300 Main Event, winning €840,000
In the High Rollers, Akin Tuna (€125,330), Alex Norden (€93,300), and Henrik Hecklen (€503,700) took down €10,300 buy-in events. Corentin Ropert (€277,560) and Thomas Boivin (€375,520) won €25,000 buy-in events, and Matthias Eibinger outlasted 40 entrants to win the €653,000 first prize in a €50,000 buy-in event.
Click here for further information.
MicroMillions returns
There's a long way to go before you get your skis out. In the meantime, why not escape from the blazing heat of summer, by playing PokerStars' MicroMillions, the richest low stakes tournament series in poker.
Beginning July 14, and ending July 28, PokerStars will put on 146 events, with buy-ins ranging from $1.10 to $22, and below you'll find some of the highlights:
It begins Sunday 14 July, with a $5.50 No-Limit Hold'em Half-Price Sunday Storm, $200,000 Guaranteed. The Storm's typical $11 price tag returns on Sunday 21 July for another $250,000 Guarantee, and on July 28 Sunday Storm returns with another $250,000 Guaranteed event, a $5.50 No-Limit Hold'em Progressive KO, $100,000 Guaranteed, and the $22 No-Limit Hold'em Main Event, with a massive $1m Guaranteed.
Last time out, PokerStars' MicroMillions busted out a 121-event schedule, and pulled in and spat out $5.2m in prize money, including the $1,276,340 accumulated by the 63,817 entrants who took part in the $22 buy-in Main Event. 'marlin5555' was the fish turned shark after winning the $120,951 first prize.
Click here for the full schedule.
Liv Boeree launches Science documentary series
"What if the world was made of blueberries?"
It's a question that got under the skin of Anders Sandberg to such a degree that he created a seven-page research paper answering the question.
To summarise:
If the world were made of blueberries, then there would be a drastic reduction in gravity causing the worse earthquake in history, and the heat emanating from the earth would create a lava-like blueberry jam that would melt the living crap out of us.
Sandberg is a researcher at Oxford University's Future of Humanity Institute, an organisation close to the heart of Raising for Effective Giving (REG). PokerStars Ambassador, Liv Boeree, is one of REG's co-founders, and last week, she launched her new YouTube Channel – 'Live Curiously With Liv Boeree', and Sandberg was her first guest.
Here is a sneak preview:
And the blueberry paper.