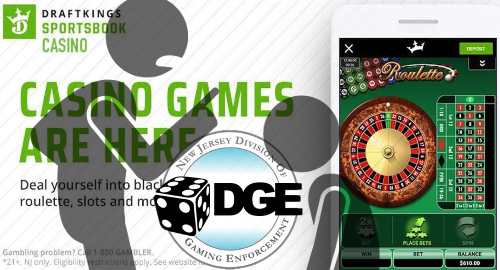 Daily fantasy sports cum sports betting / online casino operator DraftKings has been fined by New Jersey regulators for violating rules on protecting self-excluded gamblers.
The New Jersey Division of Gaming Enforcement (DGE) recently published details of two regulatory actions taken against DraftKings, which offers daily fantasy sports, sports betting and online casino products in the state.
In the first action on June 6, the DGE imposed the maximum $2k civil penalty against DraftKings for sending promotional emails and direct mailings to an undisclosed number of individuals who'd signed a gambling self-exclusion registry. The DGE said it informed DraftKings of its regulatory violation on April 12, and that DraftKings had agreed to the penalty on May 1.
In the second action, the DGE imposed a civil penalty of $5k and ordered DraftKings to 'disgorge' an additional $3,277.36 that the company won from customers who'd gambled with the site despite having requested a 'cooling off' status be placed on their accounts, which should have prevented them from gambling for a designated period.
The DGE said that DraftKings identified a flaw in its cool-off software on November 16, 2018, based on a software update deployed on October 24. This flaw automatically set the cool-off period to zero days, which allowed self-excluded gamblers to continue gambling immediately after requesting a time out.
DraftKings ultimately concluded that, of the 54 patrons who'd requested cool-off status, 13 of them had deposited funds and placed wagers totaling nearly $29k. Eleven of these customers went on to lose the aforementioned $3,277.
The DGE noted that DraftKings had discovered the software flaw themselves, resolved the issue the same day and alerted the regulator as to their cockup. The DGE also took into account that it had received no customer complaints regarding the issue.
TURN YOUR HEAD AND COUGH UP THOSE TRAFFIC FINES
For anyone who doubts the seriousness with which the DGE views its responsibilities, consider the letter the regulator issued on June 7, prohibiting its gaming licensees from conducting any business with Red N White Lines and its president Donatus Chavis.
Red N White is a Boston-based bus service, which presumably wanted to bring a steady stream of blue-haired grannies to Atlantic City casinos. But the DGE's vetting process revealed that Chavis had "several outstanding traffic citations" and an open warrant for his arrest due to Chavis having failed to pay the fines for these citations.
The DGE noted that Chavis had failed to cooperate with the regulator's probe of his background and thus Chavis and his firm are now banned from submitting any new licensing requests for the next five years.