partypoker create $500k 'Race to Alias' promotion to coincide with their planned alias change and introduce Team Online Home Games.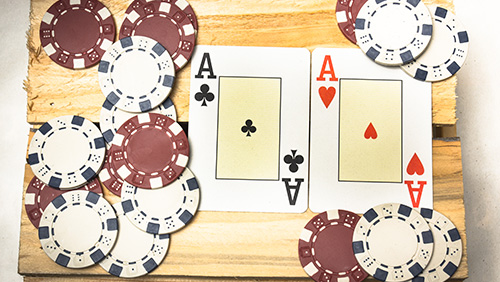 Maybe you've learned that you can't eat vegetables from the nightshade family, drank a little too much vodka and ended up in bed with your wife's sister, or performed fellatio on a stripper on stage in the local pub (behind a towel, of course) only to find out that he posted it on YouPorn.
It's time for a name change; a new identity, a fresh start, and partypoker has the same idea.
At 09:00 (BST) on June 17, players competing on partypoker will be disturbed by a pop-up prompting them to select a new alias. It's the moment that Chris Moorman has been waiting decades for, the ability to choose 'Moorman' as his new name, minus the '1' and with a big fat capital 'M'. Although, he will have to be quick as the screen names change on a first come, first served basis.
Appropriate language laws apply, but I am sure 'SolidPenis' and 'xMONSTERxDONGX' will still fly, as will anything containing cocks and balls. Cocks are farmyard animals that wake you up at the crack of dawn, and balls are bouncy things. Come to think of it, 'UpthecrackofDawn' should also pass the language laws should you want to use it.
To celebrate the occasion that's going to lead to anyone relying on current alias's sticking their head in a beehive covered in honey, partypoker is running a 'Race to Alias' promotion with $500,000 in free prizes and cash.
The promotion runs for 24-hours beginning on June 17, and here are the deets.
"Open to real money accounts only, the promotion is split into three separate strands. 'Login Click Cards' will award random prizes worth up to $10,000 in cash to players after choosing their new alias, while the site will also give away between $10,000 and $40,000 in 'Hourly Click Cards' for earning at least 0.10 in loyalty points per hour. In addition, '$10K Freerolls' are scheduled to run exclusively for players who earn qualifying tickets via either the 'Login' or 'Hourly' Click Card offers."
Players in the Czech Republic are not allowed to partake (they have a localised campaign worth $25,000). Players in Sweden are also in the dark.
And the why?
Partypoker's MD, Tom Waters, believes this is one of the ways to provide his players with a safer environment and will kill third-party tracking tools.
partypoker introduce Team Online Home Games
partypoker has also announced Team Online Home Games. A newly minted member of Team Online will host the low buy-in tournaments along a buy-in spectrum of $2.20 to $5.50 weekly, and a $25 bounty is available for anyone knocking them out.
As an incentive, partypoker will award anyone who makes a final table a seat into the Twitch Open (runs Saturdays at 20:00 (BST) with an $11 buy-in, and $25 in cash for eliminating Team Online members and other guest bounties). Also, competing in a home game and you earn a ticket for a MILLIONS Qualifier Freeroll. There will be five of them and a $10,300 seat awaits each winner.
Here they are:
June 15th: MILLIONS Vegas Freeroll
July 27th: MILLIONS Europe Freeroll
October 26th: Caribbean Poker Party Freeroll
November 30th: MILLIONS Online Freeroll
December 14th: MILLIONS UK Freeroll
And the full schedule.
Comments